Astronautas
(2003)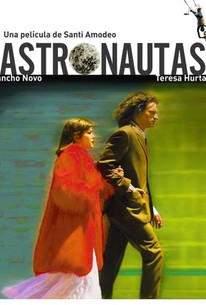 AUDIENCE SCORE
Critic Consensus: No consensus yet.
Movie Info
Daniel is approaching forty. Laura is fifteen... almost sixteen. From what they say about him he must be a poet or a comic-strip illustrator, or both. He has just overcome a long addiction and, once back home, is trying to recongnize his life based on a strategy which consists basically in DOING EXACTLY WHAT A "NORMAL" PERSON DOES. Everything that happens to Daniel is, more or less, foreseeable because that's what it's all about: he should look after his personal grooming, take care of the small things, immerse himself in the real world... and so on until he has completed the ten small achievements in his manual, a set of COMMANDMENTS devised by an insipid public health system psychiatrist. And, in the midst of all this, an unexpected happening: Laura arrives in the city searching for her brother Andres, Daniel's neighbor. But the brother is not home and she decides to wait for him, while organizing around Daniel what could be his "perfect world".
Critic Reviews for Astronautas
There are no critic reviews yet for Astronautas. Keep checking Rotten Tomatoes for updates!
Audience Reviews for Astronautas
½
In "Astronautas," Daniel(Nancho Novo) is desperate to give up using drugs. So desperate is he that he hires a couple of shepherds to lock him up for a couple of days. When that obviously does not work, he unofficially consults with a doctor on the condition that he not be locked up. So, the doctor gives him ten rules, or in Daniel's words, a decalogue, to obtain sobriety. Everything goes well at first, especially with Daniel cleaning up his apartment. And then Laura(Teresa Hurtado), a 15 year old runaway, shows up on his doorstep looking for her brother. "Astronautas" is a wild and partially animated look at a man trying to desperately put his life back together. As such, the movie has a circular structure, not unlike the vinyl records Daniel is very fond of. Not only does Daniel's world increase in size, starting from his apartment spinning outward, but at the same time we gradually learn his story.(When the movie uses the word 'poet,' I was thinking literally, not as a compliment.) Granted, the movie is also a little rough around the edges, and not just because of the less than pristine shape of the print used. And then just as everything is moving along so nicely, the movie ends, on a peculiar note to say the least.
Astronautas Quotes
There are no approved quotes yet for this movie.
Discussion Forum
Discuss Astronautas on our Movie forum!