Attenberg
(2012)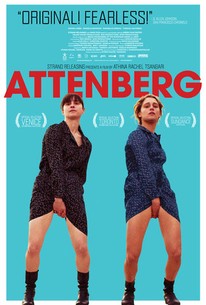 TOMATOMETER
AUDIENCE SCORE
Critic Consensus: At once playfully eccentric and poignantly bittersweet, Attenberg adds a refreshing sideways spin to the arthouse coming-of-age drama.
Movie Info
Part of the new wave of Greek cinema, Attenberg is an offbeat coming-of-age film. 23-year-old Marina is living in a small, factory town by the sea where her once-visionary architect father, has returned to die. Finding the human species foreign, she keeps her distance, choosing to observe mankind through Sir David Attenborough's mammal documentaries and the songs of Suicide. While preparing for her father's impending death, Marina discovers her own sexuality through lessons from her only friend, Bella, and a visiting engineer. Equal parts abstract theater and melodrama, Attenberg sincerely and humorously navigates the defining moments in life. -- (C) Strand
News & Interviews for Attenberg
Critic Reviews for Attenberg
Audience Reviews for Attenberg
½
Greek character study about a strange, asexual girl and her promiscuous but equally odd best friend. The conceit in this study of the ineffable otherness of other people is that we watch these young women as if we're watching a nature documentary about animals who communicate in ways we don't understand; to remind us of that fact they occasionally break into weird dances or slip into animalistic rituals. Excellent acting makes the idea work better than it probably should have, although the average moviegoer will still find it insufferable.
A quirky tale of a socially awkward young woman dealing with the imminent death of her father and a budding romantic involvement with an engineer who is visiting her workplace. Most of the quirkiness is supplied by her less inhibited best friend. At times dark, often awkward, but with an overall tone of playfulness, this film touched on our need to feel like we have some control over our lives.
Mark Abell
Super Reviewer
"Attenberg" starts with Marina(Ariane Labed) and Bella(Evangelia Randou) kissing each other. Calm down! It's not what you think. Marina is just curious to learn about kissing from her more experienced best friend but is none too thrilled with the experience and wonders if she, in fact, might be asexual.(In all honesty, I don't care for French kissing, either.) Anyway, Marina has more serious things to worry about like her father Spyros(Vangelis Mourikis), an architect, who is seriously ill. At the end of the day, she still has to go to work where she drives around an engineer(Giorgos Lanthimos). Some might be disappointed that the wild, woolly and thoughtful movie "Attenberg" has little to say on the current crisis in Greece but it still has plenty to say about the country, starting with Spyros' rant about Greek history and also in what little future he has left, as corpses could not be cremated in Greece until very recently, which leaves his decision to be a final act of defiance.(From what I learned online, the Greek Orthodox Church feels it defiles the body but then they started to run out of room in the cemeteries. See, you learn something new everyday.) For Marina, she is having her first experiences with sex and death, as her conversations with her father have become very frank indeed(I personally do not want to think of my parents having sexual organs, and I don't think many other people do.) but still has plenty of time to play with her best friend(there are occasional intervals with them doing silly walks which simultaneously divert us and them) and watch nature documentaries.
Attenberg Quotes
There are no approved quotes yet for this movie.