Audience of One
(2007)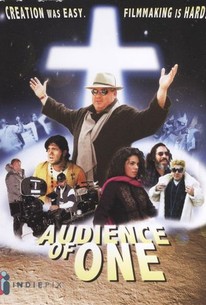 Movie Info
A Pentecostal minister with no experience as a filmmaker receives a divine vision instructing him to shoot an epic science fiction film based on the biblical tale of Joseph, and documentary filmmaker Michael Jacobs follows every step of the tumultuous film production that follows. As tension on the set rises and the production experiences a series of disheartening setbacks, Jacobs catches charismatic minister-turned-director Richard Gazowsky and his loyal flock as they strive to see their vision reach the silver screen. Set to be shot on 70 mm film and described by the ambitious director as "Star Wars meets The Ten Commandments," "Gravity: The Shadow of Joseph" aspires to truly biblical proportions. Now, as the impressive but inexperienced cast and crew travels to Italy and prepares to shoot their epic on state-of-the-art film equipment, the production hits an unforeseen hitch as the 100 million dollars promised to them by German investors fails to materialize. With rumors of Satan's mischief soon being whispered among the members of the congregation/crew, the pastor remains resolute in his vision and determined to conquer any and all obstacles that stand in their way.
News & Interviews for Audience of One
Critic Reviews for Audience of One
Audience Reviews for Audience of One
Like a character from a Wernor Herzog film, the audience watches as the Pastor of a church decides to make a big budget mash up of The Ten Commandments and Star Wars called Gravity: The Story of Joseph. Like Kinski at the end of Aguirre, you truly witness madness at the final congregation. It's actually kind of chilling, I can honestly say my jaw was hanging open. Still, up until that point it's a fun film about a guy who dares to dream bigger than he has any right to. Also, it's an ode to Star Wars in the fact that the pastor hadn't seen any movies until he was 40 until he saw Star Wars, which it's awesomeness I'm certain drove him on this crazy mission.
Christopher Brown
Super Reviewer
Audience of One Quotes
There are no approved quotes yet for this movie.