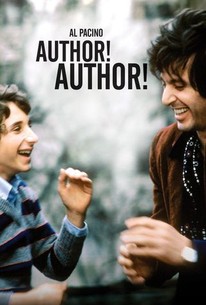 Author! Author!
1982, Comedy, 1h 50m
6 Reviews
1,000+ Ratings
Rate And Review
Movie Info
While struggling playwright Ivan Travalian (Al Pacino) tries to get movie actress Alice Detroit (Dyan Cannon) to star in his new Broadway show, his personal life spins out of control. Bored with their marriage, Ivan's wife, Gloria (Tuesday Weld), leaves him -- but she leaves him with not only their son but her children from previous marriages. As Ivan attempts to rewrite the second act of his play to his own satisfaction, he finds himself in the unfamiliar position of being a single parent.
Audience Reviews for Author! Author!
Sandwiched between the controversial Cruising and the controversial Scarface lies this Al Pacino vehicle that finds him as a dysfunctional play write, juggling a dead marriage, a house full of kids, and a fully backed play perpetually looking for its 3rd act. AP stars as Ivan Travalian, the atypical New York writer who comes home one day to find that his wife (TW) has left, leaving kids from various marriages throughout the house. Hilarity ensues as Ivan struggles to maintain a household, a career, and figure out whether or not he still loves his wife or the star of his play (DC). Author! Author! feels like a sitcom. I mean it really feels like a sitcom to the point that you'll be in hysterics at the title theme song. Pure Friday night on ABC drivel that doesn't really go anywhere, just spinning around in circles. The only thing that progresses in this film is the play. Everyone is in the same place as they were in the film, with Pacino epiphany being unheralded and lacking everything. Tuesday Weld plays her role as sympathetic to start, then you just don't care about the selfish.... Dyan Cannon is the rebound and pretty much disappears when her part of the story is over, which is sadly the best part of the film. If they could have dove into their relationship and how another adult deals with the offspring of another it would have made this film much more interesting. But it abandons that idea half way into it. Did AP lose his way after the greatness of his 70's films? It's hard to say, but AA is an unexcited, dull adventure into divorce

This is probably one of Pacino's best movies and every time I see that it is on, I make sure to watch it. Add Alan King and Dyan Cannon in and some pretty funny parts and the movie is underrated. It shows Pacino in a different light and some of his lines are priceless. the storyline is unique as well with Tuesday Weld leaving Pacino for another man and him having to juggle 5 kids from different marriages and trying to write a hit Broadway play. You never heard too much about this movie but even the kids are funny. Great movie!

This critically panned film is an underrated gem. Pacino treats us with another intriguing, convincing character exploration in this bittersweet comedy. Although there are oddly staged scenes and some awkward dialogue, this movie is very entertaining and, at times, quite moving. Al Pacino never fails to disappoint, and his nuanced portrayal of this unique character is fascinating to watch.

Hokey but pleasant and any movie with that cast is at least worth one viewing.
See Details