Awaken the Dead
(2007)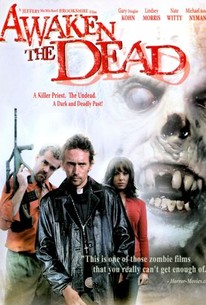 AUDIENCE SCORE
Critic Consensus: No consensus yet.
Movie Info
The comedy horror AWAKEN THE DEAD follows the adventures of two strangers brought together by the apparition of some mysterious letters in a safe house. Christopher, a killer turned priest, and Mary, a former prostitute, must join forces as an experimental virus transforms human beings into zombies.
Rating:
R
Genre:
,
Directed By:
In Theaters:
On DVD:
Runtime:
Critic Reviews for Awaken the Dead
All Critics (1) | Fresh (1) | Rotten (0)
While the many caveats drag it down, it's saved by an exciting atmosphere, and eye-catching direction.

Audience Reviews for Awaken the Dead
½
I think this is a pretty fun bad movie. The actors gave it a shot and they weren't that successful. What was more successful was the directing. It probably gave the actors a better performance, which means if it wasn't for the directors good work, this would be getting 1 star.
Randy Pronk
½
Low-budget zombie fare that actually has plenty of the undead creatures in it (unusual with little cash for effects). The story is easy to swallow, and I liked the back-and-forth interchanges between the two leads. The anti-government theme throughout was an unwanted distraction. I liked it more than I thought I would, but it still doesn't qualify as being worth your time and money.
Don Schick
Awaken the Dead (Jeffrey McMichael Brookshire, 2007) Awaken the Dead is a movie with an interesting premise, a script that would have been mediocire given one or two more rewrites with a professional editor sitting in, and some of the worst execution you are likely to ever see in a movie unless you go hunting for the bottom of the barrel like I do. There's really very little to do here but shake your head sadly and wait for a (hopefully loose) remake, since Hollywood eventually remakes everything these days. Plot: Father Gideon (Almost Famous' Gary Kohn) is sent a message by an old employer asking him to go to their old meeting place and wait. When he does, he finds himself confronted by Mary (Chronicles of a Love Unfound's Lindsey Morris in her screen debut), who lives there, and who received a similar note telling him to waitâ"for what, neither is sure. The two of them are interrupted, first by a pair of door-to-door religioius proselytizers, then by a thug (Be Cool's Will Harris) who has a mysterious connection to Maryâ"but that is before the world goes insane. The inhabitants of the town, which was sprayed by a mysterious plane we see not long into the film, turn into zombies, etc. You know where to go from here. Stanley (Steampunk Samurai Biker Chick's Nate Witty), once of the Jehovah's Witnesses, pops back up on their doorstep with news of the outside world, and the three of them form an uneasy alliance aimed at figuring out what's going onâ"and where Jeremiah (The Last Bad Neighborhood's Michael Robert Nyman), Gideon's former employer, got off to instead of showing up at the house. I keep trying to come up with ways to make this pretty, and I just can't. You know from the second Gabriel and Mary (and aren't those names subtle?) are put together in that adversarial relationship that there's going to be a (badly-filmed) love scene. From the first time you see the two Asian schoolgirl zombies hanging around in the front yard while Grin's sitting in his car outside the house, you know where that scene is going. Etc. Characters suddenly appear out of (pretty much) nowhere and for no apparent reason, plot devices appear, shimmer briefly, and then fade into nothing, the actors seem as if they've been told to be as emotionaless as possible, and I think it was all filmed on a PXL-2000 that was (badly) jury-rigged to get some semblance of washed-out color. And yet underneath its bland, pale exterior it seems as if there was really something that could have come out of this, the brilliant fat kid stuck in the skinny wallflower's body. If only someone had figured out a way to feed this movie a few brownies. *
Robert Beveridge
Awaken the Dead Quotes
There are no approved quotes yet for this movie.