Baarìa
(2009)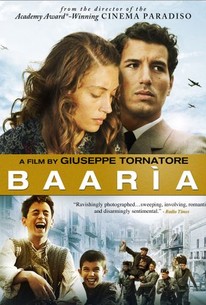 Movie Info
Giuseppe Tornatore directed this grand-scale portrait of life and love over several decades in a small town in Sicily. The Torrenuovas are a family of peasant shepherds who have lived and worked in Bagheria though many generations. In the years before the rise of Mussolini, the family often found themselves working for Don Giacinto (Lollo Franco), a local tycoon who often used his power and position to take advantage of others. Young Peppino Torrenuova senses a profound injustice in the way Don Giacinto treats his elders, and as the years pass the young man becomes a passionate advocate for social change. Once he grows to be a man, Peppino (Francesco Scianna) falls in love with beautiful Mannina (Margareth Made) and they get married, starting a family of their own over the objections of Mannia's parents, who believe she can do better. As Peppino throws in his lot with the local Communist party and works to make life better for his fellow peasants, we see a number of important historical events through his eyes and watch the fortunes of his town and his family rise and fall. Featuring guest appearances by Monica Bellucci, Raoul Bova and Donatella Finocchiaro, Baaria was the opening night attraction at the 2009 Venice International Film Festival. ~ Mark Deming, Rovi
Critic Reviews for Baarìa
Audience Reviews for Baarìa
½
"Baaria" starts in a small town in Sicily in Fascist Italy with young Peppino Torrenuova(Francesco Scianna) agreeing to buy a pack of cigarettes for an influential man who is otherwise busy with hanging out and playing games at an outdoor cafe. If he gets back by the time the man's spit dries in the dirt, he gets 20 lira which could come in handy, considering his family is always broke and forced to work menial jobs to survive, even with his father knowing how to read and still having all his own teeth. Even as the war promises to change everything, Peppino's family remains doggedly poor. But unlike his father, he takes an interest in politics to proactively put forth change for his fellow countrymen. As good looking and memorable as "Baaria" is on occasion, it is basically just a series of slightly related vignettes, stretched out to the breaking point of where the movie becomes a slog to sit through before an ending that veers perilously close to sheer allegory about Sicily's hopes and dreams. Otherwise, there are no new insights into Sicily that we have not seen plenty of times before.(And yes, Giuseppe Tornatore, we know you directed "Cinema Paradiso.") At least, the leading character is a Communist this time around.
Oh how I wanted to really like an Italian film. I guess that this was not the movie that was going to convince me that Italian filmmakers have talent. I had a lot of trouble making any sense of what this movie was trying to convey.
Cynthia S.
Super Reviewer
The film recounts life in the Sicilian town of Baarìa, from the 1920s to the 1980s, through the eyes of lovers Peppino (Francesco Scianna) and Mannina (Margareth Madè). A Sicilian family depicted across three generations: from Cicco to his son Peppino to his grandson Pietro... Touching lightly upon the private lives of these characters and their families, the film evokes the loves, dreams and disappointments of an entire community in the province of Palermo over five decades: during the Fascist period, Cicco is a humble shepherd who, however, finds time to pursue his passion: books, epic poems, the great popular romance novels. In the days when people go hungry and during World War II, his son Peppino witnesses injustice by mafiosi and landowners, and becomes a communist. After the war, he encounters the woman of his life. Her family opposes the relationship because of his political ideas, but the two insist and get married, and have children.Tornatore really knows how to dive deep in the human relationships with poetry and beauty. Magnificent cinematography and music in a masterpiece!
Andre Tavares Simoni
Super Reviewer
Baarìa Quotes
There are no approved quotes yet for this movie.
Discussion Forum
Discuss Baarìa on our Movie forum!