Babam Ve Oglum (My Father and My Son)
(2005)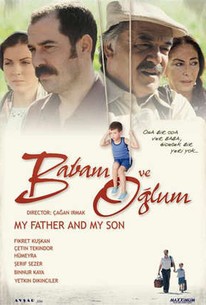 AUDIENCE SCORE
Critic Consensus: No consensus yet.
Movie Info
A Turkish man, whose wife died while giving birth to his son during a military coup, finally returns home. Estranged from his father for turning his back on the family farm, he takes his 8 year-old son and tries to repair relations.
Critic Reviews for Babam Ve Oglum (My Father and My Son)
There are no critic reviews yet for Babam Ve Oglum (My Father and My Son). Keep checking Rotten Tomatoes for updates!
Audience Reviews for Babam Ve Oglum (My Father and My Son)
½
Well, this must be good, because it has the high honor of being one of the highest-grossing Turkish films of all ti-I'm sorry, but I'm gonna stop there, because such a joke is too sad to be funny. ...No, it's still funny, largely because Wikipedia simply billed this film as "one of" the highest-grossing Turkish films ever, and didn't give it an actual ranking number. Now, I'm not saying that only so many people actually care about Turkey, but we don't even keep up with their relatively successful films enough to actually put together a ranking system. Hey, I doubt it would really be all that hard to put organize Turkish films in order of financial "success", because, really, just how many Turkish films are there out there to narrow down? Hey, you can call that statement ignorant, but I doubt that Turkey has all that much time to make movies, what with all of the coup d'états that it's been having these past couple of decades. Okay, maybe the Turkish government hasn't been overthrown that often, but the nation was built on the ruins of Troy, the fact remains that northwest Anatolia just cannot catch a break, much like Turkish cinema. Hey, say what you will about all of these assaults on the Turkish government, but it makes for a pretty decent film, and yet, with that said, while it's hard to keep up with Turkish films, once you find this one, it's easy to pick up on some flaws. I must admit that I was fearing that slowness would often loom over this thoughtful dramatic piece, yet I was relieved to find that the final product is lively enough to sustain a fair degree of entertainment value, but only for so long, as there are still those moments in which the film's liveliness dies down to atmospheric dryness and a little bit of quietness enough to bland things up a bit, or at least leave you thrown off by tonal unevenness, brought on by sudden, rather jarring jumps between the aforementioned liveliness and relatively steady thoughtfulness. The unevenness in pacing distances resonance a bit, but what may very well do more damage to this film's kick is inconsistency in tone, because the film will have its share of lengthy periods in it takes itself about as seriously as it should, if not a bit unsubtly seriously, then suddenly take on fluffier elements that would be more forgivable if plenty of them weren't kind of cheesy. From something like a fall-flat joke, to Fikret Kuskan's Salik character's obnoxious relatives, there are occasions of whimsy in this film that are hardly all that considerable, but still prove to be kind of unattractively cheesy, as well as detrimental to the focus of this film's dramatic depth, which, in and of itself, is, in fact, far from completely cleansed of its own slightly cheesy areas. By saying that this film has cheesy moments in dramatic storytelling, I am, of course, saying that this film has a tendency to slip into subtlety issues that, while only occasionally terribly severe, taint most dramatic touches in this film, whose soul, often overemphasized by a heavily pronounced and sometimes hardly subtle score work by Evanthia Reboutsika, more or loses comes out feeling a bit sentimental, to where genuineness in dramatic resonance is settled, while you're left momentarily disengaged. More often than not, the film's dramatic notes hit just fine, whether it be because of soul's compensating sentimentality, or simply genuineness in dramatic storytelling, but when the film slips into unsubtle moments, it's as offputting as it uneven spots in pacing and tone, and such sentimental moments would have stood a chance of being kept at bay if it wasn't for this film's being so passionately backed by palpable ambition, which is understandable, given the value of this subject matter, but problematic at times as something that makes the project to passionate to be as self-assured as it probably should be. There's not really a whole lot wrong with this film, but that's partially because there's not much at all to this film, which is thin enough for what flaws there are to really count against the final product, whose unevenness and overambitious subtlety issues drive a potentially rewarding drama into underwhelmingness. Still, regardless of its shortcomings, the film doesn't fall so behind that you don't get glimpses of the genuine strength that reinforce an endearing heart, often done justice by areas of inspiration that can even be found within the musical aspects. Now, if I'm to be honest, Evanthia Reboutsika puts together a score that is not terribly original and not always fitting, whether when it's establishing a tone that doesn't fully gel with the happenings it backs, or simply carrying so much soul that it exacerbates the cheesiness within sentimentality, yet no matter how problematic and unoriginal as Reboutsika's efforts get to be, they're still worthwhile, with a dynamic liveliness that both augments entertainment value and carries an endearing, musically competent heart that, when played up on at just the right time, and with just the right amount of restraint, actually feeds dramatic resonance. The film doesn't accel too much as an artistic piece, yet Reboutsika's musical touches hit more than they miss and keep consistent with a fair degree of entertainment value that helps in giving the film some additional flavor, even though they're not really too much more than relative high points in artistry that is hardly all that outstanding, and does little to carry substance that, in order to make a final product that is as enjoyable as this one, must be rich. Well, sure enough, while plenty of areas in this film's premise are either kind of thin or hardly all that unique, there is still value to this subject matter, whose themes on understanding the struggles of loved ones following dark days are meditated upon in an overambitious fashion that often sees dramatic kick's getting carried away, but just as often backs inspiration. Even without all of the overambitious lapses in subtlety, as well as, for that matter, the unevenness in pacing and tone, Çağan Irmak's direction doesn't have as much bite as it could have, and perhaps should have, but what is done right in Irmak's could have carried the film to genuine goodness, rather than just decency that is still firmly secured by a reasonable degree of general liveliness, broken up by, well, slow spells, as well as moments of dramatic resonance that are, in fact, effective as glimpses into a stronger, more realized film. I wish that Irmak did more to reinforce kick in this often cheesy, sometimes uneven and all around overambitious effort, but what he does do that, to a certain degree, does his aspirations justice replenishes your investment, maybe not to where the film comes close to be as rewarding as it probably could have been, but decidedly to where you're kept going by a charm and entertainment value, often accompanied by dramatic value that wouldn't be what it ultimately is without another, more consistently realized inspired aspect. The film could have made for a fine acting piece, yet material for our performers stands to be meatier, which isn't to say that there still aren't plenty of reasonably well-written, decidedly well-done and all around memorable performances by this film's... I guess well-esteemed Turkish talents, from such supporting player as the exceedingly charming Yetkin "Turkish Jason Segel" Dikinciler and sometimes emotionally-charged Hümeyra, to such more major cast members as Fikret Kuskan and Çetin Tekindor, whose moments of emotional power as men of family who are haunted by the unchangeable and unfortunate past do about as much as anything in carrying some of this film's most potent dramatic moments. Sure, the film's high points in dramatic kick stand to hit harder, but when the film picks up, typically on the back of inspired performances, it's hard to not be moved, for although this film falls short in too many places, it has high points that break up consistent decency, which gets the final product by as endearing, if not terribly memorable. Sonunda, uneven pacing proves to be offputting, but not nearly as much as uneven moments in tone that are made all that more frustrating by cheesiness over the fluffier spots, which, in all fairness, aren't the only moments plagued by cheesiness, as sentimental subtlety lapses reflect the overambition that is itself reflective of the other flaws that drive the final product into underwhelmingness, which is still challenged enough by the decent score work, worthy subject matter, inspired moments in direction, and across-the-board inspired performances that go into making "Babam ve Oğlum", or "My Father and My Son" an adequately entertaining and often emotionally engaging, if considerably flawed effort. 2.5/5 - Fair
Cameron Johnson
Super Reviewer
Babam Ve Oglum (My Father and My Son) Quotes
There are no approved quotes yet for this movie.