The Baby-Sitters Club
(1995)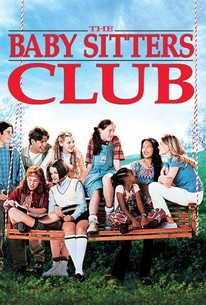 The Baby-Sitters Club Photos
Movie Info
It is a pivotal moment in the lives of The Baby-sitters Club--seven very special girls growing up in Stoneybrook, Connecticut. With most of the girls turning 13 and the summer upon them, they hope to devise a brilliant plan to make some money, have some fun and keep their remarkable friendships intact, but with new boyfriends showing up, rival girls, and long separated parents, the baby-sitters will test the fabric of their long-standing friendships. Each girl rises to the challenge in her own way and by the summer's end they discover their friendships have not only survived, they have thrived and flourished.
Critic Reviews for The Baby-Sitters Club
Audience Reviews for The Baby-Sitters Club
Having religiously read the book series but not having seen the original television show, I thought this VHS goodie was the funnest thing EVAR: with the bass-slapping, clap-happy music; the cutesy, chaste romance; the delicious mean girl villain played by throwing-shade-like-it's-her-job Marla Sokoloff; and the all-star cast of 90s dream queens who were playing thirteen but were actually in their mid-teens but looked like they were in their late teens :~P Upon watching half a hot mess episode of the television show (which just went off Netflix), with its age-accurate, plain-faced kid-vid actresses, I had to pop in my new DVD to revel in the shine and glory of its Hollywood treatment. The exposition and dialogue are indeed hokey at times, but the main summer camp plot and the subplots of Kristy's ne'er-do-well dad coming back and Stacey's flirtation with older Luca are really quite inspired and deftly intertwined, in a narrative sense. The adult actors are also very good without pulling focus. My teen girl crushes of Rachael Leigh Cook, Larisa Oleynik, and Bre Blair are still sweet, effervescent, and glamorous, respectively. I also found bonehead Alan Gray, played by now-off-the-radar Aaron Michael Metchik, inexplicably attractive. Schuyler Fisk, whom I grew to love in "i'm reed fish," anchors the movie with her tough yet vulnerable tomboy-with-an-impressive-if-underdeveloped-streak-of-second-wave-feminism.
Alice Shen
Super Reviewer
½
Giiirl, I do not even care how many people know how much I love this movie. Although the so-called "serious" problem Kristy had with her spineless dad was boring, this brings back childhood memories to the max. Sissy Spacek's daughter was surprisingly impressive, Rachel Leigh Cook was an amazing Mary Ann, and Bre Blair is gorgeous, even at 15 or however old she was. I really want to be friends with all seven of them even though as of now I'm, like, more than four years older than them. I would be Stacey's creepy boyfriend Luca. There is surprisingly a lot of kissing for a middle school movie.
Jennifer Xu
Super Reviewer
½
Of course it's a cheesy kid movie, however, I was obsessed with the book series as a child. I also watched the Disney channel TV series, so when the movie came out I was really excited and watched it all the time. So for me, it's still great!
Sarah Prisbylla
Super Reviewer
The Baby-Sitters Club Quotes
| | |
| --- | --- |
| Elizabeth Thomas Brewer: | Are you crying? |
| Kristy Brewer: | I have allergies, OK? |
| Kristy Brewer: | I have allergies, okay? |
| Elizabeth Thomas Brewer: | What are you allergic to? |
| Kristy Brewer: | Summer! |
| | |
| --- | --- |
| Kristy Brewer: | [sings in group number] "The brain, the brain, the center of the chain." |
| Kristy Brewer: | [sings in group number] The brain, the brain, the center of the chain. |