Back to the Future Part III
(1990)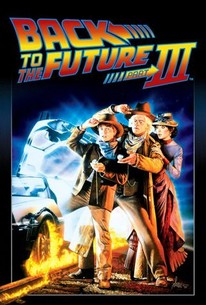 Back to the Future Part III Videos
Back to the Future Part III Photos
Movie Info
The final installment in the Back to the Future trilogy picks up where the second film left off, but it casts off the dizzying time travel of the first two films for mostly routine comedy set in the Old West. Marty McFly (Michael J. Fox) receives a 70-year-old letter from his inventor friend, Doc Brown (Christopher Lloyd), who tells Marty that he has retreated a century in time to live out a relatively quiet life in the Old West. Doc Brown reveals that he hid his DeLorean car/time machine in an abandoned mine outside town, and when Marty does some research and discovers that the Doc died shortly after writing the letter, he decides to find the car, travel back in time, and warn the Doc about his demise. Meanwhile, the Doc, who has fallen in love with a local woman (Mary Steenburgen), realizes he can't hide in the past from the problems he has caused to the time flow in the previous two adventures. He reluctantly decides to return to the present with Marty, but first, they have to find a way to get the DeLorean up to time-travel velocity with a broken fuel line and no gasoline. ~ Don Kaye, Rovi
People Who Like this movie also like
News & Interviews for Back to the Future Part III
Critic Reviews for Back to the Future Part III
Audience Reviews for Back to the Future Part III
½
This time they go back to the wild west. Has plenty of action, and a nice change to the first two.
The third installment of Robert Zemeckis' fun-filled time-travel franchise tones down on its futuristic charm, and though different in many different ways, still is able to provide a fun ride for its audience. Back to the Future Part III presents Fox and Lloyd once again in their strongest form, possibly, in the entire series. 4/5
Eugene Bernabe
Super Reviewer
Entertaining and well put together but nothing special. Unlike the original entry, "Part III" doesn't warrant a repeat viewing. You watch it once, you're amused and there's no need to watch it again - or remember anything about it. It's not a bad film, it's one of the better "Part III" in the grand scheme of things. It's an extraordinary showcase for Christopher Lloyd - and the Western plot works better than "Part II"'s future plot. It could have used a bit more originality. Instead it just takes the earlier films construct and adds Western clichà (C)s to it. This final installment of the "Back to the Future" trilogy is a good wrap up it just not one that warrants a second watch.
Tony Gandía
Super Reviewer
Back to the Future Part III Quotes
| | |
| --- | --- |
| Dr. Emmett Brown: | what idiot dressed you in that outfit? |
| Dr. Emmett Brown: | What idiot dressed you in that outfit? |
| Marty McFly: | you did. |
| Marty McFly: | You did. |
| | |
| --- | --- |
| Buford "Mad Dog" Tannen: | What's your name dude!?! |
| Marty McFly: | Eastwood. Clint Eastwood. |
| Buford "Mad Dog" Tannen: | What kinda stupid name is that? |
| | |
| --- | --- |
| Buford "Mad Dog" Tannen: | I'll hunt you down and shoot you like a duck! |
| | |
| --- | --- |
| Dr. Emmett Brown: | It means your future hasn't been written yet, no one's has. Your future is whatever you make it, so make it a good one. |