Bacon Bits
(1987)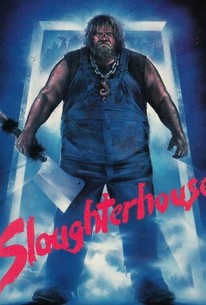 AUDIENCE SCORE
Critic Consensus: No consensus yet.
Movie Info
Father and son butcher-knife killers carve up the town. Also known as "Bacon Bits." Sherry Bendorf, William Houck, Don Barrett, Joe Barton, Eric Shwartz.
Critic Reviews for Bacon Bits
There are no critic reviews yet for Bacon Bits. Keep checking Rotten Tomatoes for updates!
Audience Reviews for Bacon Bits
80's slasher film, and all that implies
Marcus Woolcott
Super Reviewer
Over the course of the 1980's, there has been countless Slasher films that have been made, some good and not so good, some that were exciting and thrilling, others boring with bad concepts and bland performances. By 1987, the Slasher genre had run out of steam and didn't deliver on its ideas, in fact most of them recycling many familiar ideas and releasing films under different titles. Slaughterhouse is one of those films that has an unimpressive idea and tries to make for a great film. As it is it's a mildly entertaining horror film that never succeeds compared to other Slasher films due to the fact that it's a predictable film with nothing original going for it. There has been far better films than this, and overall this is a mediocre film that relies on genre clichés to create its thrills. This is a mediocre film that doesn't try anything interesting with its premise; it just ends up being a silly forgettable film that doesn't satisfy. I really wanted to enjoy the film, but to me, it looked like a rip off of the Texas Chainsaw Massacre and Motel Hell. This film is forgettable compared to others in the genre, and fans looking for a highly entertaining horror film, will be disappointed. But Slaughterhouse may find an audience for viewers that enjoy sheer ridiculous, cheesy horror films, as this is the case with this film. I enjoy a good tongue in cheek horror film, but when it's done right with a truly original idea, and that's where Slaughterhouse fails. The film started off well, but ended falling flat due to a poorly written script that uses ideas from previous genre films to try to create its terror, therefore, it suffers from a predictable plot and it just isn't interesting in the long run. A Slasher film set in a slaughterhouse had so much potential, but in the end, it's a mediocre film that leaves a lot to be desired.
When a slaughterhouse owner and his son have there property foreclosed on when they dont wanna sell the owner decides to take revenge and uses his son to do the killing of course his son has already killed once before so this comes easy but what turns out to be just for revenge the son who is light in the head takes it upon himself to kill anyone that enters the property includeing a few teens really good late 80's slasher pic that is a must see
Bacon Bits Quotes
There are no approved quotes yet for this movie.