Bad Girls Go to Hell
(1965)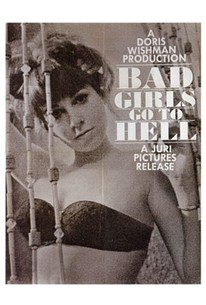 AUDIENCE SCORE
Critic Consensus: No consensus yet.
Critic Reviews for Bad Girls Go to Hell
All Critics (3) | Fresh (1) | Rotten (2) | DVD (1)
The kind of bad movie that would make a surrealist drool.
If you can laugh at sex attacks . . . you might enjoy this beautifully shot, black-and-white, very dead-pan epic of poor taste.
In the Wishman universe, women are helpless and men are bestial
January 1, 2000
Audience Reviews for Bad Girls Go to Hell
½
With a running time that barely breaks an hour, it would be fair to assume that Doris Wishman's 'Bad Girls Go To Hell' is a straight through and through film that leaves little space for baggage, it would also be fair to assume that this cult 60s sexploitation earned it's status as a classic of the genre. In fact, it would be fair to assume many things about this film before watching it, none of which could prepare you for what you get. Overlong, meritless trash. Gigi Darlene plays Meg Kelton, a housewife who is one day raped by her janitor whilst putting out the trash dressed in her nightie. Literally seconds after returning home Meg receives a note telling her that if she doesn't go to the janitor's apartment her husband will find out about what happened. For some reason that defies any explanation she decides to comply with the notes' request only to be raped again (God knows what she was expecting). During the second rape, however, Meg kills the janitor and instead of calling the police and telling them what happened (with the note as proof), runs away to New York. Nonsensical plot aside, 'Bad Girls Go To Hell' has little to offer in terms of enjoyment. Sure, the 1960s beauties featured throughout may have enticed some extremely lowbrow form of enjoyment when it came out, but modern viewers watching for lewd thrills would be better off flicking through today's music video channels. As well as this, the film shines a forgiving light on rape, seeing it as an act with no repercussions other then the victim fighting back. Throughout the film Meg is raped four times, beaten, and assumingly, if the end of the film is anything to go by, subjected to the exact same thing whilst the credits are rolling. All while the jolly soundtrack has you thinking, "Is this upbeat tune really fitting rape music?" Perhaps the biggest insult the film offers is the ending, which, without going into too much detail, renders any investment you may (but probably won't have) made in the film for nothing. Verdict: If bad girls really do go to hell, this tortuous film is presumably stuck on repeat.
Cameron Sherwell
Super Reviewer
This movie starts out pretty good, but as it goes along, you can tell it's a poorly made low budget movie, and then it all ends horribly. It really could have been much better. I don't recommend this movie.
Bad Girls Go to Hell Quotes
There are no approved quotes yet for this movie.