Bad Kids Go to Hell
(2012)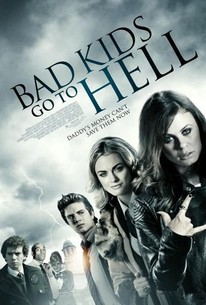 Bad Kids Go to Hell Photos
Movie Info
Six private school high school kids find themselves stuck in detention on a frightfully dark and stormy Saturday afternoon. During their 8 hour incarceration, each of the six kids falls victim to a horrible "accident" until only one of them remains. And as each of these spoiled rich kids bites the dust, the story takes on a series of humorous and frantic twists and turns. Is one of the kids secretly evening the school's social playing field? Or have the ghosts of prestigious Crestview Academy finally come to punish the school's worst (and seemingly untouchable) brats? One thing is for sure...Daddy's money can't save them now. -- (C) Official Site
Critic Reviews for Bad Kids Go to Hell
Audience Reviews for Bad Kids Go to Hell
It's OBVIOUS that this is a horror film inspired by Breakfast Club. They even went out of their way to cast Judd Nelson, one of the main characters of Breakfast Club. Of course, the twist is that there's some supernatural goings-on here that add a little wrinkle so that it isn't a shameless ripoff. It's definitely paying tribute to that film I think, even if it borrows the setting and the fact that it follows six characters from dysfunctional families. But that's where the similarities end. Unfortunately, however, the movie never really clicks. It's just all over the place tonally. It's not funny enough to be a comedy, nor is it gory, or scary enough, to be a horror. All this would be fine if the film had some campy laughs, which it does, but not nearly enough of them to make truly justify watching it. The plot is a bit of a mess with the final reveal of why everyone was in detention being a bit silly and hard to believe. The inkblot tests, otherwise known as the Rorschach tests, triggered a response in each of the students that made them do something beyond their control. I thought it was a little silly, but it is what it is. Like I mentioned, the film doesn't really find a consistent tone to follow through on, so it's really jarring to go from comedy, to horror, to camp, to social commentary. At least the film attempts to have something underneath all the silliness, since it focuses on the plight of Native Indians, I refuse to call them Native Americans, they were forced out of their lands and killed by the pilgrims and you want to name them after the people that killed them AND stole their land? I refuse to do that. Anyway, there's a bit of that and the film goes about it in a funny way because there's this constant reminder that, as much as the school/library has a Native Indian theme, there are, in fact, no Native Indians to speak of in the film. Prior to the prom Tricia is chosen, or choose to dress herself as, an Indian princess, despite the fact that she very likely does not have an Indian in her. So, at least, the film has something deeper at its core, even if the themes don't always really work. The story also goes to some dark places as it sees the parents of these kids set their own kids up to die in order for their involvement in a pretty shady deal to not be revealed. The film is, very obviously, cheaply made. You can see that from the special effects in the film. But it has some bright spots, Judd Nelson has some funny lines calling a physically handicapped kid a retard, but there's not enough of this to make the film work. This would've been better off as a short movie if I'm completely honest. It's certainly got a good idea but the execution is an absolute utter mess. I'm sure the comic/graphic novel is much more of an improvement over this. I just think that its ideas and characters would be better developed. This is a bit of a mess, with cliched characters, but it's got a good concept and some pretty decent moments, so it's not as much of a disaster as my review makes it out to be.
Jesse Ortega
Super Reviewer
½
This film has Judd Nelson in it. Do you really need any reviews to know how bad it is? I suppose that's supposed to be some "clever" reference to Breakfast Club since they both involve annoying kids in detention halls after school hours -- but that type of shallow reference should give you insight into how tortured the scriptwriting is.
Christian C
Super Reviewer
In this horror take on 'The Breakfast Club' (featuring an appearance by Judd Nelson), six high school kids are forced to spend their Saturday in detention. One by one they die from what seem like freak accidents. Could the spirit of an Indian chief, cheated out of his land by the school's founder, be responsible? Combining the eighties' teen staple with a spam-in-a-cabin plot-line should make for a fun little horror romp but this turkey, adapted from director Spradlin's own comic book, is more concerned with plot twists than low-budget thrills. Most of the film consists of the kids, none of which are remotely likeable, screaming at each other. A flashback structure attempts to inject some humor but falls flat. Perhaps unruly high-schoolers could be forced to watch this bore rather than sit detention?
The Movie Waffler
Super Reviewer
Bad Kids Go to Hell Quotes
| | |
| --- | --- |
| Veronica Harmon: | I'm out like a boner in sweatpants. |
| | |
| --- | --- |
| Tricia Wilkes: | I don't do "we." I just do "me." |
| | |
| --- | --- |
| Veronica: | It use to be... our parents jobs made them boring and mean. But now, WE are boring and mean. |
| | |
| --- | --- |
| Craig: | You hate me because I have options. The only 'virtue' you have... is because your options are limited. |