Bad Santa 2
(2016)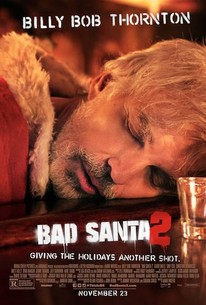 TOMATOMETER
AUDIENCE SCORE
Critic Consensus: Loaded up with the same scatological and misanthropic humor as its predecessor but precious little of its heart or genuine wit, Bad Santa 2 presents a foulmouthed shadow of Christmas past.
Movie Info
BAD SANTA 2 returns Academy Award (R)-winner BILLY BOB THORNTON to the screen as America's favorite anti-hero, Willie Soke. Fueled by cheap whiskey, greed and hatred, Willie teams up once again with his angry little sidekick, Marcus (TONY COX), to knock off a Chicago charity on Christmas Eve. Along for the ride is 'the kid' - chubby and cheery Thurman Merman (BRETT KELLY), a 250-pound ray of sunshine who brings out Willie's sliver of humanity. Mommy issues arise when the pair are joined by Academy Award (R), Golden Globe and Emmy-winner KATHY BATES, as Willie's horror story of a mother, Sunny Soke. A super butch super bitch, Sunny raises the bar for the gang's ambitions, while somehow lowering the standards of criminal behavior. Willie is further burdened by lusting after the curvaceous and prim Diane, played by Emmy Award-nominee CHRISTINA HENDRICKS, the charity director with a heart of gold and libido of steel. You better watch out: BAD SANTA 2 is coming to town.
News & Interviews for Bad Santa 2
Critic Reviews for Bad Santa 2
Audience Reviews for Bad Santa 2
½
Does this movie win the award for Most Unnecessary Sequel of 2016? Well, actually, I don't really know. I'd have to go back and read all of my reviews for the past year in order to make that decision. But I'll be damned if this wasn't on that list, even if it wasn't the most unnecessary sequel of last year. I honestly wish Flixster would have an option where you go year by year and see the movies you reviewed that particularly year. It'd make doing lists so much easier. Not to mention comparing films, if they need to be compared at least. I'm sure it's not that difficult, but the programmers at Flixster may just be too lazy to do it. Ah, it is what it is. But I digress, I was actually surprised by how bad this movie actually was and how much it actually fails at being an entertaining sequel. Stylistically speaking, this is the same movie as the original. Willie is still an crude, offensive misanthrope who cares little about anyone but himself. The movie is still as raunchy as ever, with sex jokes and foul language up the ass. But, and this is only one of the few problems, the movie just isn't funny. It's just not. I think it tries to use is its crude and offensive sense of humor as proof of 'hey, it's still the same move' when it's really not. Here's the thing, you can attempt to be as offensive or as crude as you want, and I have no problem with that, films should be able to joke about shit that makes us uncomfortable, if only to make us reflect on ourselves and the society we live in. But here's the thing with using offensiveness and crudeness as the basis of your humor, you actually need some fucking jokes. Well-written jokes. Jokes that actually make you laugh instead of roll your eyes. My previous review (of a Netflix Original movie called Mercy) complained about its twist that was done just for the sake of one. Well, that applies to the humor in this movie as well. It's crude and offensive just for the sake of being crude and offensive. Not because they actually have some great jokes up their sleeves where, the only way to get them out, is through that filter. And that annoys me, because I legitimately enjoyed the first Bad Santa. It was a pretty funny movie, that I've been wanting to re-watch. And if this movie is what they had in plan for the sequel, then what was the fucking point of even bothering? Not to mention the fact that it's been almost FOURTEEN years since the original came out. The people who really wanted a sequel to this movie have been waiting for longer for this than those who wanted an Anchorman sequel. Imagine waiting nearly fourteen years for a movie and when it comes out, it's this. Oh boy, I can imagine some people being pissed off. The thing about the original Bad Santa, on top of the fact that it had legitimately funny jokes, is the fact that those jokes had a purpose. They were meant to establish Willie as this unlikable grinch who's selfishness is second only to, well, nothing. But they also paired that with an actual story where Willie sees some growth through his connection with Thurman. I guess you could justify that same approach in this movie by saying that Willie is reconnecting with his mother. And that's fair, I suppose, but it still doesn't make the comedy in this movie any good. Again, they rely way too much on the fact that being crude will net them some laughs, as opposed to using crude humor to tell good jokes. I know I've repeated that a whole fucking lot, but it bears repeating. The humor is just super fucking lazy here. Not to mention the story. There's something here with exploring Willie's relationship with his mother and how he is the way he is because of her. But they don't go to any interesting places with it. It's just the basic 'I was a drunk and I fucked up your childhood' type bullshit. At the very least, this movie does a better job at justifying its existence than Hot Tub Time Machine 2. The latter existed simply because there were a bunch of leftover skits from the original that they wanted to use. Hence they made a sequel that, literally, was a series of skits barely held together by a narrative thread. This movie, at the very least, attempted to have a story, even if it sucked, to hold together its skits. The casting was at least strong. Billy Bob Thornton is perfect in roles like this, so he's no problem. Kathy Bates is always a more than welcome addition, even if they did not give her character much to do. The problems I have are not with the casting, far from it. The cast, I believe, are the only legitimately good thing about the movie. That's it, really. I don't think I can go on with this review any longer. This is a very bad movie that hardcore fans of the original won't enjoy, at least that's how I see it. There's probably a very small group of people that will champion this as superior, but they're empirically wrong. Don't watch, I'm sure the original Bad Santa is available cheap on Amazon. Get that DVD instead of spending your time watching this, you'll thank me later.
Jesse Ortega
Super Reviewer
½
Let's face it Bad Santa was a sleeper hit that had no right being as good as it was I was just surprised it took this long for a sequel, It may not be as good or as funny but there's still allot of fun to be had, Most of the jokes were rehashed and the plot was the same with a predictable ending but there's still a good few dark comedy moments to be had, It's not half as bad as critics believe but it also was never going to be better than the first.
Jamie Clarke
Super Reviewer
A comedy with no reason to exist is a lousy thing and it's even worse when that comedy seems to know it, and thus is the pitiful state of Bad Santa 2, a sequel that feels far too stale. I wonder if the original movie was as enjoyable as I recall or if in the ensuing 13 years we've just become more inured to the casual vulgarity of these movies, but I was left bored by the overwhelming listlessness of this comedy. Billy Bob Thornton returns but he's generally on autopilot. The loose plot involves another score, this time engineered by his mother (Kathy Bates), but really it's mostly a hangout film with nasty characters insulting each other in painfully provocative ways. I was getting restless and the comic set pieces are to a whole poorly developed and routinely settle on the easiest joke, which is again witless shock value. There's no range, no unexpected turns, so much of the comedy falls flat, the same smutty joke repeated with little variance. Stay tuned for a tepid end credits sequence that justifies the "graphic nudity" of the rating (hopefully Snapchat does not get any ideas for the tie-in). Without a stronger plot and characters, the shock value begets diminished returns, and even my preview audience was deadly silent for long stretches. I laughed about ten times total, not enough to justify a theatrical viewing but perhaps enough to keep it on TV while folding laundry. The strange thing about a dark comedy is that it feels like all the consequences from the plot were cut in editing as several storylines and their reasons to exist fail to fully manifest. There are payoffs you anticipate that never come and storylines that seem created entirely for reasons that never arise. The most consistent comic presence is Brett Kelly replaying his now grown-up simpleton from the first movie. Kelly is the only actor who plays a different note, providing a dose of unyielding optimism that befuddles. If you're a big fan of the original and just looking for another fix perhaps Bad Santa 2 will provide enough nasty humor to satisfy. By the end I felt drained from this thoroughly pointless affair. Nate's Grade: C
Nate Zoebl
Super Reviewer
Bad Santa 2 Quotes
There are no approved quotes yet for this movie.
Discussion Forum
Discuss Bad Santa 2 on our Movie forum!