The Ballad of the Sad Cafe
(1991)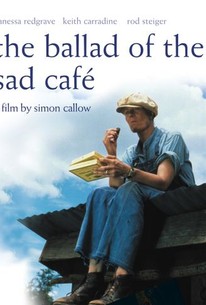 Movie Info
This first film directorial effort of actor Simon Callow is based on a novel by Carson McCullers -- which, in turn, was adapted for the stage by Edward Albee in 1964. Vanessa Redgrave plays a powerful Southern matriarch who, sequestered in her café/general store, holds her home town in the palm of her hand. Redgrave's benevolent despotry is threatened by the arrival of her hunchbacked cousin, Cork Hubbert (in the role played on stage by dwarf actor Michael Dunn), and her jailbird husband Keith Carradine. Unable to remove this threat to her authority by her usual means, Redgrave is reduced to challenging Carradine to a bare-knuckle fight! Carson McCullers' fascination with the disintegration of the Old South coupled with her preoccupation with the grotesque requires delicate handling (as witness Heart Is a Lonely Hunter). Callow works overtime keeping things controlled and tasteful; unfortunately, this results in a very mannered and stilted production, all too obviously betraying its stage origins.
Rating:
PG-13
Genre:
,
Directed By:
Written By:
In Theaters:
On DVD:
Runtime:
Studio:
Criterion Collection
Critic Reviews for The Ballad of the Sad Cafe
Audience Reviews for The Ballad of the Sad Cafe
Confirms Vannessa Redgraves status are one of the great actresses, a suspicion I first had watching "The Devils"(which if you havent seen, you need to see, asap.). Miss Amelia is the wealthiest women in a small southern town, she is tall, muscular, lean, and not at all ladylike. She serves as the towns doctor, as well as its cheif landlord, and money lender. She brews the towns only supply of alchohol, in a distillery acessible only by a swim through the swamp. She is the town eccentric, but also the pillar of the community, everyone owes her something and without her nothing gets done. She lives a solemn and loney life(writing stories, keeping up with her buisness), and is otherwise content, until a dwarf with a hunchback shows up, claiming to be her cousin. The photograph he shows her of his mother, half sister of her mother, is too blurry to be indentifiable, but she accepts him just the same. Cousin Lymon can do magic, tell jokes, and plays the harmonica. He encourages her to turn her general store into a cafe, where people can drink inside(not just on the porch), where the paino can be played, and company can be had. The cafe, brings a life to the dismal town, where once there was none. The town is shocked by the sudden turnaround in their own lives and Amelias who goes from wearing her usual blue jeans suspenders to dresses(something they cant remember since she was a girl). Amelia dotes on Lymon, buys a car to drive him into the city, and all is well, until Amelia's husband, Marvin Macy returns from pirson. Marvin Macy, was in love with Amelia years ago, and thought his proposal to her would turn his sordid life around. She agreed to the marriage amicably enough, until the wedding night. Then she threw him down the stairs and insisted he sleep in the barn. Macy then turned over all his property to her to woo, her, but alas, to the barn he was sent. Til he eventually abandoned the town altogether, after one emasculating episode too many. When he returns, cousin Lymon is immediately smitten with him, he cant wait to talk to someone whose been on a "chain gang, to Atlanta, and in a real prison." Lymon is something of a child, and Macy is a "man". Theres a good deal of ambiguity in the sexuality of both Lymon and Amelia, though. Macy abuses Lymon, more and more who follows him like a puppy, while Amelia withers watching and waiting for Lymon, to give up his infatuation, so it can be just the two of them again. A love without the sex(presumably, and implicity), a companionship which she can accept and return. The towns reverend tells Macy's sister in law, "All I know is... that it takes two people to be in love. It takes the... lover... and the beloved. But these two, they come from... diff'rent countries. And sometimes, the... the beloved is the cause for all the, all the stored-up love that's lain in the heart of the lover for such... a long time, and every lover knows that... deep... deep in his soul, he knows that his love is a lonely and solitary thing. That's why I guess most of us, we'd rather be... the lover than to be loved, I mean, because the state of bein'... beloved is... is intolerable. See an' then, after a while... the beloved gets to hate the lover, because the lover's always trying to strip, strip, strip bare... the beloved. See, that's because the... the lover... 'e craves that love -- even though he knows that that love can only cause 'im pain.", in the film, and the novella it was based on's defining scene. The film climaxes in a fist fight, in the cafe between Amelia and Macy(thats right a no holds bared, knock down drag out fist fight, which again confirms Redgraves greatness). Literally dukeing it out for Cousin Lymon who watches gleefully from the sidelines. Like "Wise Blood" its a suprisingly faithfull adaptation of the southern classic of love and the grotesque. Carson Mcullers novella, of which this was based on is one of my favorite books. Actor Simon Callow does a good job directing the material, theres some particularly beautiful moments which bookend the film, featuring men on a chain gang. The cinemtography on the whole is accomplished, and the rustic music, fitting the mood excellently. There is one awkward moment at the end of the fight, see it and you will know what I mean. Its a funny, unique, and sad film, film that captures the "blindess" of love, better than any other. On a personal level Mcullers had a horrific marriage, both her and her husband having numerous failed homosexual relationships(and him eventually asking her to commit suicide with him, and her leaving, as he finally went through with it). Its easy to see this as a personal story as much as a universal one, of the right love, in the wrong person. Or culturally as a story of a powerfull independent women, comprimised by her own emotions, and brought down by the cruelty of the men around her. Though Amelia is as cruel to Macy, as he later is to her, so maybe what goes around comes around too. Theres many ways to look at it and theyre all true on some level. So basically the book is great and the movie is pretty good. See em both if you can.
Joseph Sylvers
The Ballad of the Sad Cafe Quotes