Baran
(2002)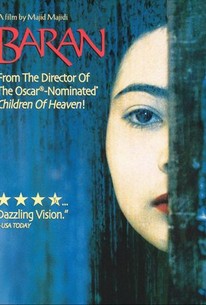 Movie Info
Young Latif works on a Tehran construction site with his fellow Iranians and a few illegal Afghan workers. When Latif is given heavier tasks to accommodate new Afghan worker Rahmat, he resents his displacement and treats Rahmat cruelly. After one of his pranks, though, Latif discovers Rahmat's secret -- he is a girl. Latif's heart softens to Rahmat and he shows his new affection for her by doing what he can to ease the hardships she suffers at work. When government inspectors force all Afghans to be fired from the site, Lateef discovers he cannot bear to be without her. Jeopardizing social standing and endangering his own well being, Latif stops at nothing to save his love.
Audience Reviews for Baran
It was a very interesting look at life in Iran. Little more can be said for it. The premise was rather obsurd. After hating the person who took his job, he finds out it is a woman and suddenly gives up everything for her. All this without ever saying anything to her. She of course, has no interest. The acting wasn't particularly good. The pace was okay, but nothing special to hold a person's interest.
Cynthia S.
Super Reviewer
Baran" is a simple, human, beautiful, touching, wonderful story. Exposing the situation of the Afghans refugees in Iran, after the Sovjet invasion, their civil war and the Taliban regime, this film also gives a lesson of humanity, sympathy and generosity. The actors and actresses have very realistic performances, showing an excellent direction and the character Baran does not speak any word along the story, using only her facial expression to disclose her inner feelings. And the sacrifice of Lateef to please the family of "Baran" shows a pure and platonic love. BARAN is another excellent film that qualifies as one more of the finest Iranian dramas. Off course from Majid Majidi. Who else?
Daisy Maduro
Super Reviewer
½
Here's an interesting movie by Majid Majidi. The story plot centralizes around young Lateef, a seventeen year old, who one day meets an Afghan worker named Rahmat. Rahmat takes the place of his father at a construction site in the city, and for a while Lateef treats him cruelly. Until one day, he realizes that Rahmat is truly Baran. He begins to fall in love with her. Hossein Abedini and Zahra Bahrami stars. Worth seeing!
Baran Quotes
There are no approved quotes yet for this movie.