Barbara
(2012)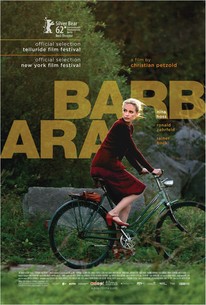 TOMATOMETER
AUDIENCE SCORE
Critic Consensus: Smart, solidly grafted, and thoroughly gripping, Barbara offers a deliberately paced, subtly powerful character study.
Movie Info
Winner of the Best Director prize at this year's Berlin Film Festival, the latest film from Christian Petzold (Yella, Jerichow) is a simmering, impeccably crafted Cold War thriller, starring the gifted Nina Hoss-in her fifth lead role for the director-as a Berlin doctor banished to a rural East German hospital as punishment for applying for an exit visa. As her lover from the West carefully plots her escape, Barbara waits patiently and avoids friendships with her colleagues-except for Andre (Ronald Zehrfeld) the hospital's head physician, who is warmly attentive to her. But even as she finds herself falling for him, Barbara still cannot be sure that Andre is not a spy. As her defensive wall slowly starts to crumble, she is eventually forced to make a profound decision about her future. A film of glancing moments and dangerous secrets, BARBARA paints a haunting picture of a woman being slowly crushed between the irreconcilable needs of desire and survival. Germany's official Oscar submission for Best Foreign Language Film.
News & Interviews for Barbara
Critic Reviews for Barbara
Audience Reviews for Barbara
½
A subtle romance with a historical context and great performances, blending love and politics in an engaging story that also explores the curious contrast between the vivid landscape of East Germany's countryside and the sad universe the protagonist is forced to live in.
Carlos Magalhães
Super Reviewer
The East German secret police had a reputation for brutality in supporting the communist regime. Here within the tranquility of a country setting, the politics surrounding a nurse banished from the big City is disturbing and yet fascinating to behold.
John Ballantine
Super Reviewer
Dr. Barbara Wolff(Nina Hoss) has been transferred to a hospital in the provinces in East Germany in 1980 against her wishes. In return, she has no intention of giving her Stasi minder Klaus Schutz(Rainer Bock) nor anybody else the satisfaction of thinking they have won. That extends to not eating with any of her fellow doctors. However, she still has to work with them, as she correctly diagnoses Stella(Jasna Fritzi Bauer), a young woman in trouble with the law, with meningitis, thus greatly impressing Dr. Andre Reiser(Ronald Zehrfeld), one of her colleagues. So instead of sitting around her sparse apartment all day in her bathrobe, Barbara decides to fix her bicycle and go for a day trip in the country which her minders have a problem with when they lose track of her for several hours. First off, Nina Hoss is one of the best actors working today and certainly does not disappoint with her latest performance in "Barbara," succeeding in playing a difficult character. And I also liked how the movie gradually reveals Barbara's backstory while featuring perhaps my favorite scene of the year where Dr. Reiser dissects the Rembrandt painting in his office. That's not to mention all of the random details of life in East Germany that help to complete the picture. Sadly, the story is pure cliche, filled with contrivances, and filed under the city doctor going to the country and being surprised by what she finds.(I've never seen "Doc Hollywood," so I'll go with "Northern Exposure" instead. And I guess this is proof that "House" was shown in Germany.) And with any old plot, it also makes the movie that much more predictable. Of perhaps greater concern is the fact that it muddles the movie's politics, not so much as to which side are you on, but adding a definite grey area that also extends to Barbara's motives in her struggle against being violated.
Barbara Quotes
There are no approved quotes yet for this movie.