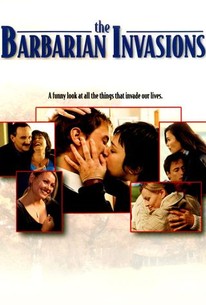 The Barbarian Invasions
2003, Comedy/Drama, 1h 39m
134 Reviews
10,000+ Ratings
Where to watch
Rent/buy
Rent/buy
Rent/buy
Rate And Review
The Barbarian Invasions Photos
Movie Info
In this sequel to "The Decline of the American Empire," middle-aged Montreal-based professor Rémy (Rémy Girard) discovers that he is terminally ill with cancer. This revelation leads to his reconnecting with his son, Sébastien (Stéphane Rousseau), a finance expert living in London who has embraced ideals that are at odds with his father's socialist leanings. As Remy reconnects with his son, and other relatives and friends, they discuss everything from sex to politics to philosophy.
Rating: R (Sexual Dialogue|Language|Drug Content)

Genre: Comedy, Drama

Original Language: French (Canada)

Director: Denys Arcand

Producer: Denise Robert, Daniel Louis

Writer: Denys Arcand

Release Date (Theaters): original

Release Date (Streaming):

Box Office (Gross USA): $3.4M

Runtime:

Distributor: Miramax Films
Audience Reviews for The Barbarian Invasions
The Barbarian Invasions is an interesting and low-key family drama. The film is about contrasts and has quite a mix of characters. It succeeds in balancing the cynical with the sentimental. Other reviewers have complained about the character of the father. But to my mind, the father character must be not completely likable, otherwise the dynamic in the film will not work. In various spots the lighting and focus stand out as well-done and, all-in-all, The Barbarian Invasions is a very competent film.

Not sure what to really make of this movie as it isn't really as story-focused as it could've been given the concept. Each character has its own individual story, and at the very least each character gets a little color, but there's no real 'narrative' other than this group of intellectual and socially conscious friends, whose 1960s mentality has carried over to this decade, to come together one last time as one of their own has been diagnosed with terminal cancer. Over the course of the course of these days, however long it is who knows as the movie doesn't explicitly state how long it is, these friends have conversations about politics, sexuality, art, literature, etc. It's everything a group of current republicans would hate, intellectual conversation. And I think it works, mostly because this group of friends does very much feel like a real group of friends. Perhaps that is the familiarity the cast must have had with each other as this is sort of a sequel to a film made 17 years prior to this one. So that air of familiarity is certainly there, like you're just seeing old friends shooting the shit again. In that regard, I thought the film was excellent. But, and this is my own personal opinion, this film wasn't good enough to be an Oscar-winner. It's certainly very good, the acting is excellent and the writing is incredibly smart. But there's just nothing here that screams Best Foreign Movie Oscar. Personally I thought the relationship between Remy and Sebastien could've been much better developed than it was. They spend a lot of time either arguing or not even talking to each other. It's clear that Sebastien was affected by Remy's philandering ways and how that affected their relationship. It's almost as if Sebastien wanted to be the exact opposite of Remy, and in a lot of ways he is, but where it's most important he's almost exactly like Remy. They do spend time on that, but not as much as to make it truly effective. They never really truly solve their problems but, at the end, that doesn't really matter. Remy is still Sebastien's father and there will always be love there regardless of whatever issues they may have. That part was certainly good, handled subtly as well, which makes it even better in my view. Personally, I found it more touching once Remy's friends start to say their goodbyes. It's very heartfelt and genuine but, again, and this is the most important part, it's all done very subtly. It doesn't exploit cancer in order to manipulate your emotions. It's a character study on how Remy's prognosis brings these group of friends, and even Remy's somewhat estranged family, back together in spite of everything they may have gone through. That's my favorite part of the film, easily. Though I still don't think this film is really Oscar-worthy, I very much enjoyed its approach to its characters and dialogue. The narrative itself isn't great, but it is interesting enough to hold your attention throughout. Very good stuff here, but it's definitely gonna be an acquired taste for some. Not a movie that's gonna appeal to everyone.

The sequel to the Decline of the American Empire takes the life pondering group of friends into the age of death and decay and their attempts to embrace it with dignity. A treatise on relationships and how complicated ones end up being simple when faced with the end of life.

Much more moving and complex that the first picture, Danys Arcand bring these delight characters to the screen again, together with past, present and future sad ghosts.
See Details