Barbarian Queen (Queen of the Naked Steel)
(1985)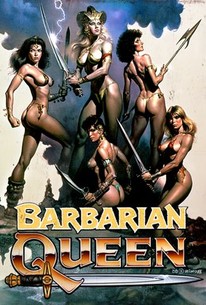 AUDIENCE SCORE
Critic Consensus: No consensus yet.
Barbarian Queen (Queen of the Naked Steel) Photos
Movie Info
When Amazon queen Amathea's (Lana Clarkson) hubby-to-be is swiped by a marauding warlord (along with most of the other local men) and her lovely little sister Taramis (Dawn Dunlap) is raped, the vengeful Queen sets out with two other lady warriors to set things right.
Rating:
R
Genre:
,
Directed By:
Written By:
In Theaters:
On DVD:
Runtime:
Studio:
Concorde Pictures
Critic Reviews for Barbarian Queen (Queen of the Naked Steel)
All Critics (3) | Fresh (1) | Rotten (2) | DVD (2)
Great B-movie sword and sandals. Hot babes, nudity and action!

Hilariously bad Swords & Sandals romp with an extra side order of bare knockers.

Audience Reviews for Barbarian Queen (Queen of the Naked Steel)
Along the same lines as the 'Deathstalker' franchise, no surprise seeing as its another Corman production. Again you must check out the poster for this film, so so very sexy and awesome yet as usual nothing like the actual movie, such a shame. Set in the Roman era apparently, never noticed myself, the plot revolves around a small band of female warriors and their Queen trying to save the Queens sister from nasty Romans. Nothing really happens for the entire film to be brutally honest and its really rather dull. Of course there are the obligatory topless scenes for many female characters and some soft porn sexy moments which will keep any hot blooded male interested, but not for long. The finale is pretty good with a semi decent fight sequence within a semi decent set. All the sword fighting is pretty hokey looking but its fun to watch all the extras pretend to be proper swordsmen/women. End of the day I watched this because of the cool film title. Yep I'm a perv, but for what other reason would any male watch this? certainly not for the epic historic story line or quality acting oh no. Its Corman and its all about big breasted blonde women in skimpy outfits with swords killing men, expect nothing less.
Phil Hubbs
Super Reviewer
½
"I'll be no man's slave and no man's whore, and if I can't kill them all, by the gods they'll know I've tried." - Barbarian Queen Since I finished reviewing the "Deathstalker" franchise, it's due to time to review its partner in crime spin-off series, the notorious "Barbarian Queen" duology. Seriously, "Deathstalker" made enough money to inspire a spin-off series?! It may be hard to believe but yes it's true but don't worry, this franchise is just as bad as the as the franchise that spawned. The film begins a violent attack on a village, aka "Conan the Barbarian." Of all days it happens on our Barbarian Queens wedding day. Determined to get revenge for the dead and to rescue her muscle bound fiancée, she heads to the dictators castle to rescue her lover and rid the land of the iron hand of his sadistic ruling. Fans of "Deathstalker" can rejoice as this is every bit as bad as the film that inspired it... just not quite as entertaining in B-movie sense. "Barbarian Queen" actually takes itself a hair more seriously and is actually slightly better made. This could be a good or bad thing depending on your taste in B-movies. For me I didn't find it as entertaining as it didn't have the unintentional laughter value of "Deathstalker" and it lacks many of the outrageously silly sorcery moments. But don't worry, there's plenty of dumb shit going on here to keep your attention. Lana Clarkson plays our title character, inspired by the warrior woman in "Deathstalker". Is it the same character? It's questionable but she plays it the same and let me tell you Clarkson is a feast for the eyes. Tough, deadly and sexy as hell. She's a real looker and an amazing screen presence for a silly little sword and sorcery flick. Our filmmakers (including Roger Corman as an uncredited producer) know that violence and nudity drive these low budget barbarian flicks and they load this film up with blood and tits, and boy do we get to see Clarkson's on more than one occasion. A torture scene where our heroine get's captured is especially titillating, and hilarious when she kills a guy by squeezing his Johnson and throwing him in an acid pit that is just randomly placed in the floor. Take that creepy potential rapist! "Barbarian Queen" is a extremely low budget fantasy flick and loads up on nudity and violence for its production shortcomings. If you like other films of this nature, like it's inspiration "Deathstalker" than I seen no reason why one wouldn't get some enjoyment out of this Brainless flick. Hell it's better than most of the "Deathstalker" sequels that's for sure! A Roger Corman produced S&S flick wouldn't be complete without a sequel and one would eventually arrive as "Barbarian Queen II: The Empress Strikes Back."
Eric Reifschneider
½
Following Deathstalker, we have another super cheesy Corman-produced Argentinean sword and socery type fantasy movie with lots of boobies and Lana Clarkson. A simple village is attacked and villagers captured right before their beautiful warrior queen is to be married. Seeking the return of their village-folk, the surving women (including the queen) follow the raiders to their city. Once there the queen is captured only to be strapped to a torture device and raped by an apparent rabbi. Pretty much a stinker.
D M
Barbarian Queen (Queen of the Naked Steel) Quotes
There are no approved quotes yet for this movie.
Discussion Forum
Discuss Barbarian Queen (Queen of the Naked Steel) on our Movie forum!