BASEketball
(1998)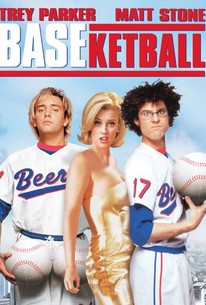 Movie Info
BASEketball tells the tale of three slackers who make up a new, pure and innocent sport in their driveway, only to find it turned into a major corporate and wildly popular professional league.
People Who Like this movie also like
Critic Reviews for BASEketball
Audience Reviews for BASEketball
½
The creators of South Park trade their voice-over and production abilities for on-screen acting abilities, which makes BASEketball just as hysterical. The films cross-over script will be enjoyable for those who crave sports or comedy, but it's just downright gaudy of a film. 3.5/5
Eugene Bernabe
Super Reviewer
½
BASEketball is a pretty decent comedy that is pure mindless entertainment. To watch this film, you really need to empty your mind, and enjoy. Starring the creators of South Park, BASEketball is a sports film about a sport combining Baseball and Basketball. The film has some laughs throughout and it relies on crude, vulgar comedy to make the audience. If you're familiar with South Park, then this should be no surprise. This film is funny, but I felt it could have been much better than what it turned out to be. The jokes are offensive, but it manages to make you laugh, but the film did have potential of being something far better. I mean you get David Zucker direct the two guys who created South Park in a film and you're sure to get something very funny. As it stands, the film is worth watching, has some good laughs, but lacks something to really make it stand out. The film works well as a mindless Friday night viewing with friends but if you're looking for a great comedy, pass up on this one. This is a pure mindless comedy that has some crude humor, a so-so plot and decent acting. The film is nothing too special, but is a must see for fans of South Park. I found the film enjoyable, but thought it could have been much better too. As far as comedies go, BASEketball definitely does deliver, but lacks in some areas, and you realize that it could have been a better film. This had the potential of being a great film, but it ends up being a decent film. For what it is, it's an enjoyable, crazy ride that is sure to make you laugh if you're in the right state of mind.
BASEketball Quotes
| | |
| --- | --- |
| Joe Cooper: | I hear your sister is going out with SQUEAK! |
| | |
| --- | --- |
| Doug Remer: | Listen to me little bitch! You either go out there and make that shot or I'm gonna shove your head so far up your fuckin' ass, you'll have to wear yourself as a hat! |
| | |
| --- | --- |
| Joe Cooper: | Dr. Kaiser! We graduated high school with your daughter! |
| himself: | (Brittany's dad) You graduated? |
| Joe Cooper: | Haha, of course we graduated! 8cough* cock *cough* beer? |
| | |
| --- | --- |
| Doug Remer: | Coop, do you know what you're doing? |
| Joe Cooper: | What's it look like? |