Batman: Under the Red Hood
(2010)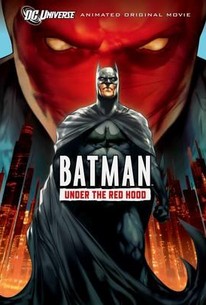 Batman: Under the Red Hood Photos
Movie Info
A diabolical villain who seems to know Batman's every move sets out to clean up the streets of Gotham for good and destroy the caped crime-fighter in the process. Every night, Batman protects the citizens of Gotham from the shadows. But lately another vigilante has been prowling the streets, and his merciless methods are more frightening than reassuring. Now, as the Red Hood commences to exterminating the scum of the city with extreme prejudice, the Joker resurfaces to taunt his old nemesis by digging up some skeletons that were best left buried.
Critic Reviews for Batman: Under the Red Hood
Audience Reviews for Batman: Under the Red Hood
½
Dark, emotional, and way too short, Batman: Under the Red Hood stands as strong a film as most of the live action versions of the Dark Knight. Focusing on the Red Hood / Jason Todd storyline, Under the Red Hood is a thrill ride with great voice talents (although I miss Mark Hamill as the Joker) and solid animation.
Edward Boxler
Super Reviewer
ow I've personally been wanting to talk about this film for a while but the problem is I've been having trouble writing about it because I feel that it is an incredible film but I just feel there isn't as much to talk about that I can go into extreme detail about, but I'll try my best to justify its 2nd place spot. First off the animation in this film is probably some of DC animations best work (just watch the Amazo fight or the fight near the end of the film to see.) It has a somewhat darker look compared to the animation done in JL or in Batman Beyond and it looks very, very good at many points even making a few little nods to other Batman incarnations in the background at points. Also this is the first Batman DCAU film that has none of the original Batman Animated Series cast portraying any of the characters and it's all a fresh new cast portraying each character and they all do just as good as the BTAS cast. Matthew Greenberg is just fantastic as Batman and I actually thought at first it was Kevin Conroy doing the character again but noticed a little difference in his voice after a while but I could hardly notice at first. John DiMaggio is just incredible as the Joker and I'd say he's just as good as Mark Hamills version of the Joker (yes I said in my VC he was close but not as good but the more I think about it the better he got.) He's psychotic and takes nods from Hamills Joker but also the dark edge that Ledger had at the same time and is just amazing. Jensen Ackles portrays the Red Hood and Neil Patrick Harris portrays Nightwing and they both do fantastic jobs. Ackles has this mysterious badass but familiar kind of sound to his voice which actually helps with the twist halfway through the film, and Harris is just as good as he is in anything he is in (yes I even liked him in Smurfs,) while not getting a lot of screentime as Nightwing he still does a great job. Also the plot is much more dark than some of the other Batman animated films prior to this one, especially with the help of this dark Joker and with the Black Mask sidestory, and the movie seems much more gun happy than the other films really did prior, which I like to see in a Batman film because it does stay true to the darker Batman comics and Graphic Novels (The films starts with Robin being tortured by the Joker with a crowbar.) Also the twist halfway through the film is very, very good but I don't dare want to ruin it for you, but it is kind of obvious if you think about it through enough. But other than that the film is very good and I highly recommend it to any fan of animation, Batman, or DC in general. Plus there's a great short of Jonah Hex on the DVD that manages to better than the whole Jonah Hex film (talking to the dead my ass.)
Michael Edwards
Super Reviewer
A damn fine animation. To call this a cartoon would be to undercut the pain and emotion it makes you fell. Hands down the best animated Batman film and third best Batman movie (maybe 2nd?).
Ken Stachnik
Super Reviewer
Batman: Under the Red Hood Quotes
| | |
| --- | --- |
| Batman: | If I allow myself to go down into that place, I'll never come back. |
| | |
| --- | --- |
| Joker: | I'm going to need something to wear. And a really big truck. I'll need some guys. Not these guys though because they're kind of dead. Ha! |
| | |
| --- | --- |
| Nightwing: | Lasers, he's got lasers! |
| | |
| --- | --- |
| Batman: | I know I failed you. But I tried to save you, Jason. I'm... I'm trying to save you now. |
| Red Hood: | Is that what you think this is about?! That you let me die? I don't know what clouded your judgment worse. Your guilt or your antiquated sense of morality. Bruce, I forgive you... For not saving me. But why, why on God's earth is HE still alive?! |
Discussion Forum
Discuss Batman: Under the Red Hood on our Movie forum!