Batman vs. Two-Face
(2017)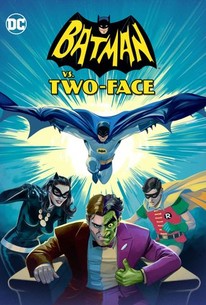 Batman vs. Two-Face Videos
Batman vs. Two-Face Photos
Movie Info
A former Gotham D.A. goes on an evil rampage in the city, with all his choices determined by flipping a coin. Batman and Robin race to find out his mysterious secret identity while also battling the usual suspects, like Catwoman, Riddler and the Joker. Adam West and Burt Ward provide the voices for Batman and Robin.
Critic Reviews for Batman vs. Two-Face
Audience Reviews for Batman vs. Two-Face
Very silly, but that is the point. Batman vs. Two-Face totally captures the feel it wants to, and its nice to walk that world for a quick 70 minute romp. Final rating:??? - I liked it. Would personally recommend you give it a go.
½
Maybe on par with the first animated sequel, It was more fun but I knew what to expect, The story was pretty fun and it wouldn't of worked any other way apart from an animated film, It wasn't as corny as it should of been but it does have its cheese about it, It was great again to see the original cast back, The animation was good and it had a few good action scenes, It's a great love letter to the 60's TV show and it should please fans old and new, And a fitting send off to The late great Adam West. R.I.P Adam West. The Original Dark Knight.
Jamie Clarke
Super Reviewer
Batman vs. Two-Face Quotes
There are no approved quotes yet for this movie.