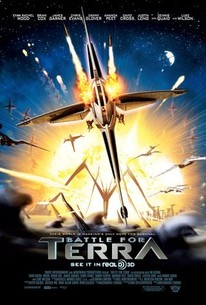 Battle for Terra
2007, Sci-fi/Adventure, 1h 25m
97 Reviews
50,000+ Ratings
What to know
critics consensus
Despite its earnest aspirations to be a thought-provoking sci-fi alternative, Battle for Terra lacks both a cohesive story and polished visuals, and fails to resonate. Read critic reviews
Where to watch
Rent/buy
Rent/buy
Rent/buy
Rate And Review
Movie Info
When strange objects appear in the sky above the peaceful world of Terra, some of the inhabitants believe the gods have come to visit. Instead, human invaders swoop down and kidnap a number of Terrareans, including Mala's (Evan Rachel Wood) father. Mala saves a downed pilot, Jim Stanton (Luke Wilson), hoping he'll help her find her father. While certain Earthlings plot to take control of Terra, Mala and Stanton realize that the fates of both their peoples hinge on the choices they make.
News & Interviews for Battle for Terra
Audience Reviews for Battle for Terra
One of the best casts ever assembled to voice a children's movie cannot save the lacklustre script or subpar animation for this film that was ripping off Fern Gully long before Avatar ever did.

The concept was much better then what was eventually delivered. Avatar has shown how theses films can be made to work and show a lot of creativity. The voice cast is passable without any real menace or heroism amongst them. The issue is that they are all so dull and seem to be reading instead of acting into the roles. The film is quite good to look at but the alien race are quite poorly created, especially the back story of the race. The action scenes are what really holds this film together. I enjoyed the air fight at the conclusion but for the remaining part it was quite slow. Starship troopers is another example of how a sci fi war film is made. It will pass the time for the kids but don't look to much into it like did

Wow, talk about derivative! This film borrows heavily from just about every space film ever made - from Avatar to Star Wars, while telling its tired cautionary tale of bad, greedy humans putting themselves first and foremost; regardless of the cost. It is so obvious in its message and ham handed in its delivery that it makes the inventive "alien" race and their "fantastic planet" (see, here's a couple of sci fi film titles thrown in just for the fun of it), easy to overlook, which is unfortunate, for, without the sociological preaching and some dumbed down for children aspects, there could have been a decent film here. The fact that the film races through its explanation of human history as if even the filmmakers were tired of the message, should tell you all you need to know. In a nutshell, we are at first introduced to the planet Terra and her environs, kinda tadpole looking creatures capable of floating on the planet's atmosphere. Some nicely done animation shows the denizens going through their daily lives - but then trouble starts as the film focuses on two citizens, a boy and a girl who race around in DaVinciesque flying craft and attempt jaunty banter that comes off as a banal attempt at making these characters identifiable to the kiddies in the audience. This is just the first in a series of missteps, as the film is simply too earnest for its own good -everything is so black and white that even the eventual payoff where a human must chose between his own people and showing signs of humanity (think Avatar in a big way), lacks emotional punch. There is a nice bit of irony when the Humans first appear for the Terrans think their nifty spacecraft are gods, so run in front of them pleading "take me, take me"; I just wish the film had more ironic moments like this in its short run time, for too often it squanders its inventiveness by resorting to cliché and lame solutions to the problems presented to both Terran and Human alike. And speaking of cliché... in the final, balls to the walls battle sequence (again so reminiscent of Avatar), the pilots of the flying crafts on both sides utter just about every line from the Star Wars battle scene - all the "cover me, I'm going in", "I can't shake him", "I've got your 6", etc ad nauseum is all there in embarrassing excess, while the battle itself is simple a jumble, lacking the scope and yet singular focus of the first Star Wars film that this is so obviously mimicking. I'm amazed at the voice talent hired to do this overtly obvious bit of sociological commentary - makes me think that the film was pitched to the talent as a "teach the youngsters about the sins of their fathers" kind of BS. I suppose the kiddies need to learn this lesson, so I'm going to shrug and not condemn this film completely for perhaps it had its heart in the right place, but it's really about as thought provoking as an episode of Gilligan's Island (unless you spend your days wondering why Tina Louise was wearing an evening dress for a 3 hour boat tour - and... ahem, how to get inside that dress... I know I did! LOL).

This computer animated sci-fi film about a peaceful alien planet which faces destruction from colonization by the displaced remainder of the human race was directed by Aristomenis Tsirbas who conceived it as a hard-edged live action feature with photo-real CGI environments. Later the investor Snoot Entertainment redirected the project to become fully animated and appeal to younger audiences... and it seems that is the reason why it is hard to be appealing to anyone older than 10. Lack of depth and I'll say "lack of soul" are the main reason for the law rating. Still... not much negative in it... just lukewarm! The plot reminds a lot to Avatar's but that is the only similar thing... everything else is just average! Good for "little people" and long winter nights only!
See Details