Be With Me
(2006)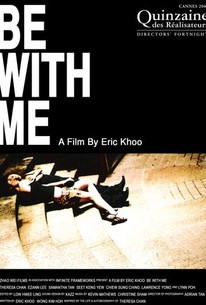 Movie Info
Produced by the gifted Marin Karmitz's MK2 Productions, Eric Khoo's omnibus film Be With Me encompasses three separate tales. All are concerned with the themes of love and fate, each centered around a character who yearns to be with another, beloved individual. In the first segment, "Meant to Be," an elderly shopkeeper suffers from the pangs of loneliness until an encounter with the blind and deaf Theresa Chan (via her autobiography) changes his life; the 61-year-old Chan portrays herself in the segment and shares her story with the audience. The second, "So in Love," chronicles the experiences of two teenage lesbians whose lives are about to change irrevocably. In the third, "Finding Love," a middle-aged security guard (Seet Keng-Yew) divides his affections between food and an infatuation with a professional woman who works in his building. He feels too intimidated to approach the girl formally, but ultimately decides to make himself known with a letter. Be With Me co-stars Ezann Lee, Lynn Poh, Chiew Sung-Ching, and Samantha Tan.
News & Interviews for Be With Me
Critic Reviews for Be With Me
Audience Reviews for Be With Me
One man dares not meet a woman he's messaged online, a girl sends desperate texts to her ex-lover, an older deaf and mute woman only hears through touch. A beautiiful triplet of stories about love, love looked for, love lost, and love maybe found, communicated every which way apart from. speech, and more resonant than a million pat celluloid romances.
Lyrical,soft as the white snow,partially brutal but that's just my metaphorical enthusiasm.Theresa Poh Lin Chan as the real individual amidst fictional tales of love,the hunt for love or simply eternal love.Yeah,the plot is familiar you'll protest...sure,if one scratches the surface and realizes miss Theresa's inabilities are but her unique breath whereas the ones who can see and hear are the shamefully crippled.
Dimitris Springer
Super Reviewer
A very slow paced, quiet little film from Singapore that interweaves three separate stories together into a coherent whole. When I say quiet, I mean that literally. The dialog is sparse, with the bulk of the interaction occuring without anything spoken. The themes are loneliness, unrequited love, and secret longings. The characters are well drawn and one never loses the sense of the film in spite of the austere nature of its unfolding. The emotions play out with genuine heart and one feels empathy for each of the characters. The film suffers however, from a lack of any real focus. It appears to be a vehicle for introducing us to a real, flesh and blood woman of outstanding courage and accomplishment, and did so in a most oblique way. This viewer felt that the material would have been more direct if the biographical information had been left out, or had been developed as a separate documentary. As presented, it did little to inform the central themes and one felt like there wasn't enough story for the film to stand on its own. It was almost as if the biography was inserted to stretch the film to something closer to feature length. Watch it for a view of life in this tiny asian nation, and for the message it conveys even in spite of its flaws. Just don't expect heart stopping action or witty dialog. It's not there.
Mark Abell
Super Reviewer
Be With Me Quotes
There are no approved quotes yet for this movie.