Beau Travail
(2000)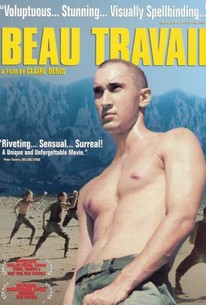 Movie Info
In this military drama, a military man finds his position of prominence questioned when a new recruit wins the commander's favor. Galoup (Denis Lavant) is an officer at a French Foreign Legion outpost in the Gulf of Dijbouti, where he enjoys a close relationship with the Commanding Officer (Michel Subor) and works with a team of fit young men who work hard all day and play hard all night. When Sentain (Gregoire Colin), a new recruit, joins the troops, Galoup believes that it upsets the delicate balance between the C.O. and the other men. Sentain is well-liked by his comrades for his good humor and selfless nature, and his virtues make him the C.O.'s new favorite. Galoup is jealous of the attention Sentain receives, and he devises a plan to discredit Sentain in the eyes of the other men and have him drummed out of the service. Galoup's plot is found out, however, and Galoup is stripped of his rank and sent home. Beau Travail was loosely based on Billy Budd, Sailor by Herman Melville, though disco dancing did not figure quite as prominently in Melville's novella. ~ Mark Deming, Rovi
Critic Reviews for Beau Travail
Audience Reviews for Beau Travail
Claire Denis' treatment of the modern French Foreign Legion rolls in its own time but the story that it weaves is well worth the wait. Very well filmed.
John Ballantine
Super Reviewer
it's a visual poem over the thinly disguised bones of billy budd but it can't really be described, only experienced. the remarkable denis lavant strikes again. nice work indeed
Stella Dallas
Super Reviewer
Not an easy film to watch because it often goes back and forth from past to present. But visually, the film is gorgeous. The director knows where to frame her landscapes and how to frame her actors. Finally, the final sequence is just memorable. It might seem completely out of there, but there is more than it seems. The film is NOT straightforward in terms of narrative, but we just need to dig a little to understand deeply the soldiers.
Linda K. T.
Super Reviewer
Beau Travail Quotes
There are no approved quotes yet for this movie.