Beautiful Boxer
(2005)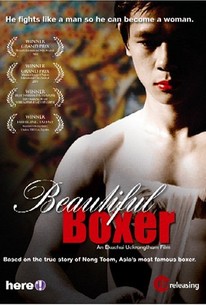 Movie Info
Based on the true story of Thailand's famed transgender kickboxer, Beautiful Boxer is a poignant action drama that punches straight into the heart and mind of a boy who fights like a man so he can become a woman. Believing he's a girl trapped in a boy's body since childhood, Parinya Charoenphol sets out to master the most masculine and lethal sport of Thai boxing to earn a living and to achieve his ultimate goal of total femininity. Touching, funny and packed with breathtaking Thai kickboxing sequences, Beautiful Boxer traces Nong Toom's childhood, teenage life as a traveling monk and grueling days in boxing camps.
Critic Reviews for Beautiful Boxer
Audience Reviews for Beautiful Boxer
Objectively I'd say this was a very good movie, but I just find that the movie is excessively sentimental and the acting can be downright awful at times. The problem is the movie, from beginning to end, is very sentimental. And that's just not something that I find to be good storytelling. In the end, though, I think this is a story that deserves to be told but not in this manner. The movie's cinematography also isn't particularly good but that's the least of my issues. The acting is hit and miss, there's some scenes, mostly involving the kids, that are simply embarrassing. I think the movie does a good job at presenting Nong Toom as a very likable character that you can sort of root for and his search for what he truly wants in his life. The fighting scenes are decent but they are a little repetitive. So really...it's got a good story but its sentimentality and poor acting keep it from being much more than it could be.
Jesse Ortega
Super Reviewer
Wonderful true story of a transgender thai boxing champion in search of his own identity. The movie follows the tender boy, who becomes a tough boxing champion, a national hero and then a beautiful woman. Though the editing is absolutely appalling and the low budget shows everywhere the movie still creates an amazing atmosphere and beautiful imagery. The story is told almost lyrically and with great emotional intensity. Very touching and inspiring film about being true to oneself.
Incredible and extraordinary true story of a champion Thai boxer who underwent a sex change operation to become a beautiful woman.
Dean McKenna
Super Reviewer
Beautiful Boxer Quotes
There are no approved quotes yet for this movie.