Beer League
(2006)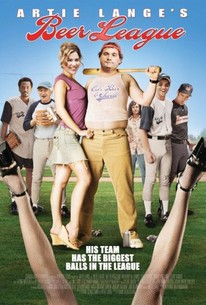 Movie Info
An unemployed, alcoholic thirtysomething who still lives with his mother and can't seem to muster the motivation to turn his life around finds that all's fair in love and softball when his team is threatened with ejection from the league in a raunchy sports comedy starring Howard Stern Show regular Artie Lange. For the sluggers from Ed's Bar and Swill, the weekly trip to the local diamond is more about drinking and roughhousing than it is about such technicalities as hitting home runs and striking out the opposing team. When their favorite pastime is threatened by the ultra-competitive athleticism of the league's villainous perennial champions -- led by local gym owner and current mayoral candidate Manganelli (Anthony de Sando) -- this motley group of hard-drinking sportsmen must make one final push for the pennant and end their unprecedented losing streak if they hold out any hope of making it to another season. Ralph Macchio, Seymour Cassel, and Laurie Metcalf co-star, and longtime Saturday Night Live contributor Frank Sebastiano makes his directorial debut.
News & Interviews for Beer League
Critic Reviews for Beer League
Audience Reviews for Beer League
½
I never really enjoyed Artie Lange, but I gave this film a shot, thinking it may be good. I was wrong. This is a bad film that has too many jokes that fall flat, and just isn't that funny. Lange's brand of comedy really doesn't shine here, and it really brings the film down. If it had a better lead actor who actually is funny, then maybe this film would have been good, however it wasn't. This film suffers from everything that can go wrong with a comedy. I felt that Beer League was a very forgettable film, and it didn't stand out either. I felt that there was wasted potential in making a good film, and the filmmakers seemed to just rush to make this film. Everything goes wrong with the film, as the story just isn't good, and most importantly the jokes are unfunny. I really didn't enjoy this film, and I felt that it missed the mark on many occasions. There were times where the film could have been very funny, but it just had mediocre humor that wasn't funny. This film could definitely have been much better if it had a better cast and script. Artie Lange is a horrible comedian, and Beer League further proves it. I think it's a shame that the film like this turned out the way it did, because this film really could have been lots of fun with great comedy, instead the film just ends being a bad comedy with some washed up actors. Avoid this film and watch something else, you'll be glad you did. The only thing this film did for me is want me to avoid Artie Lange's future films.
... and Mr. Lange's body was found on his bed with a magnum in hand and a copy of his film Beer League in the other hand, he apparently took his own life for reasons that are so far unknown.
Coxxie Mild Sauce
Super Reviewer
This movie's a lot like it's star, Artie Lange--it's slovenly, crude and an overall waste, but can somehow pull it together by the end while being somehow likable. It has a few fun cameos. I liked Beer League because it wasn't wishy washy and safe instead of wonderfully politically incorrect with its humor. Picture New Jersey douchebags cast in a remake of The Bad News Bears.
Michael Gildea
Super Reviewer
Beer League Quotes
There are no approved quotes yet for this movie.