Behind Enemy Lines: Colombia
(2009)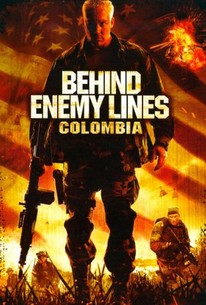 AUDIENCE SCORE
Critic Consensus: No consensus yet.
Behind Enemy Lines: Colombia Photos
Movie Info
Columbia is in chaos, and as a brigade of US Navy SEALS embark on a secret mission to ensure that peace talks between the country's government and insurgent guerillas don't erupt into violence, an unforeseen complication threatens all out war. Out of nowhere, the meeting falls under attack and the leaders from both sides are killed. The SEALS have been framed for the crime, leaving them to fight for their lives from behind enemy lines. Abandoned by their government and left for dead, the weary soldiers race to uncover the evidence that will prove their innocence while ensuring that the violence is contained. Should the fighting spill over the border, the entire region could be plunged into a nightmarish inferno of war and death. ~ Jason Buchanan, Rovi
Critic Reviews for Behind Enemy Lines: Colombia
All Critics (3) | Fresh (2) | Rotten (1) | DVD (1)
If this film had been released in theaters, it would have been a bit of a bummer, but on DVD for some guilty pleasure, it's pretty decent.
Colombia has the flair of a rough 80s actioner, only slicker.
...steps over the line from watchable time-waster to tedious waste of time, thus ensuring that all three movies share a fairly consistent level of mediocrity.
Audience Reviews for Behind Enemy Lines: Colombia
A fun and frequently enjoyable action movie that's loaded with enough explosions, great gun fights and a surprising twist that you wouldn't expect that just makes have a little more to appreciate for a low-key film. It has a pretty solid cast as well.
Going into this film as a WWE Production I had little faith in it being good. Being a WWE fan, I wanted to watch it anyhow, and see if they've stepped up since what I seen as fails with projects like "The Marine" with John Cena. I can happily say, they've finally did a movie, that to me felt like a legit movie. Mr Kennedy only plays a secondary role, and he is not super-hero status, like most WWE Superstars are in the movies they play in. Kennedy actually has a very down to earth role with the rest of his Navy Seals Sqaud of 5. Throw in some gore, some great gun fight scenes, a pretty neat little twist, and some decent acting and you got a fair movie. For me, it was one of the best WWE Production films to come out yet, and I give it props for that. I liked it and would recommend it to anyone who is into high time action, military, flicks.
Bobby Hobbs
Super Reviewer
½
"In the Colombian jungle there is no place to hide" Navy SEALS mount an attack on Colombian special forces to clear their names and rescue a hostage.
REVIEW
Direct to DVD sequel to a sequel (how many behind Enemy Lines are there anyway?) about navy seals trapped between factions in Columbia when a surveillance mission goes wrong and the two sides they were watching are blown up. Hunted by everyone it soon transpires that larger forces are at work and that they may not even be able to trust each other. WWE movie directed by Tim Matheson is a serviceable and watchable film but is also the sort of thing that is doomed to spend its life either forgotten on the video store rental shelves or perhaps popping up occasionally to fill a hole in one of the second or third tier cable network schedule. Its not a bad film, but it's the sort of thing your only going to turn to when every other movie station has nothing on or the sports channels are just showing reruns of the world series of poker. Approach accordingly.
Lorenzo von Matterhorn
Super Reviewer
Behind Enemy Lines: Colombia Quotes
There are no approved quotes yet for this movie.