The Bellboy
(1960)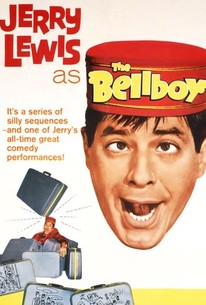 Movie Info
Jerry Lewis is a bellboy in a posh Miami hotel. He speaks no dialogue in his interactions with a variety of hotel guests, which sets up for many sight gags in this slapstick comedy.
Critic Reviews for The Bellboy
Audience Reviews for The Bellboy
½
A successful debut of Jerry behind the cameras and still making great scenes with slapstick and physical comedy.
Lucas Martins
Super Reviewer
Jerry Lewis steps behind the camera, as well as in front, to construct a successful slapstick comedy known as The Bellboy.
As stated in the beginning of the movie, there is no plot. In fact, the closest thing to a story is the hotel and bellboy concept that ties everything together. As a whole, this picture is a series of comedic scenes that span a brief run time of 70+ minutes.
Despite some misses, most of the humor is on the money and will generate laughs. Lewis' gags are straightforward and simple, which ends up generating an amusing experience. Having no plot makes it easier to concentrate on the comedy.
Lewis not only writes, directs, and produces this film, but stars in it as well. He tackles both a side and lead role. His side character is himself and he does speak, but the main individual doesn't have much to say. He relies on facial expressions, body movements, and a catchy whistling tune to shine from scene to scene. Bill Richmond also comes through with a fun side character.
The Bellboy brings the entertainment to the bellboy occupation. Relax and watch the bellboy get into mischief.
The Bellboy Quotes
There are no approved quotes yet for this movie.