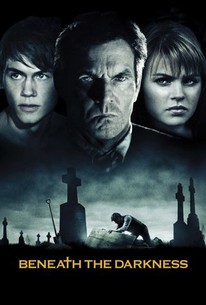 Beneath the Darkness
2011, Mystery & thriller, 1h 37m
23 Reviews
1,000+ Ratings
Where to watch
Rent/buy
Rent/buy
Rent/buy
Rate And Review
Beneath the Darkness Photos
Movie Info
Teenagers discover a terrible secret when they break into the home of a mortician (Dennis Quaid) whose wife died two years earlier.
News & Interviews for Beneath the Darkness
Audience Reviews for Beneath the Darkness
It is great to finally see Dennis Quaid play a character with personality again! Lately, it seems like he plays the same scarred, emotionless character, over and over again. It's hard to remember that it's his charisma that made him a star and you can really see it in Beneath The Darkness. Dennis Quaid plays Vaughn Ely, a mortician who is bat shit crazy. To the town, Ely is this great guy who gives back to the community, but only one person can see him for what he really is. Travis (Tony Oller) is a local teenager who works odd jobs for Ely and has always had suspicions about the man, but never did anything about it. One night, the subject comes up while with his friends and they decide to bust into Ely's home to find out what he's really hiding. The story starts out very slowly and I wasn't expecting it to get any better, but it really does. I already mentioned how good Quaid is, but the star of this film is Tony Oller. I've heard him sing, but I've never seen him act, and to say I was impressed is an understatement. Between Quaid's outlandish behavior and Oller's teenage angst, I didn't need much of a story to follow in order to be entertained. Beneath The Darkness is strange and not everyone is going to like it, but it's one of these films that you keep watching, because you want to know what's going to happen. What happens is that it actually turns into a pretty entertaining and respectable film, that features a star in the making.

This attempts to do for "Psycho" what "Disturbia" did for "Rear Window", update it for a teen audience, but where the latter film succeeded this fails miserably. Quaid is cast against type as a deranged mortician who lives with the corpse of his wife. When a bunch of uncharismatic "One Tree Hill" type teens catch on to this, one of their number becomes his latest victim. As is usual in these films, the adults of the town don't believe them so they must expose him themselves. Quaid has fun with the role and plays it well over the top but his performance isn't enough to elevate a bland script. The budget for this borefest was seven million dollars and it's hard to see where it was spent. Maybe most of it went to Quaid, it seems the only explanation for an actor of his quality appearing in something as bad as this.
See Details