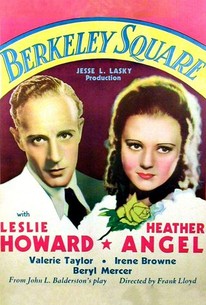 Berkeley Square
1933, Fantasy/Romance, 1h 27m
4 Reviews
100+ Ratings
Rate And Review
Movie Info
In 1930s London, American architect Peter Standish (Leslie Howard) grows obsessed with the details of his ancestor Peter, reading his diary and studying details of his inheritance. Noting that it is the 149th anniversary of the former Peter's arrival at the home of his intended, Peter is sure if he goes to the house at the same moment his ancestor did, he will travel back in time. When his prediction comes true, Peter finds himself in 1784, upsetting the household and possibly his own future.
Audience Reviews for Berkeley Square
An early time travel movie which was undoubtedly a little mind blowing in 1933, and while it may seem a little creaky and less impressive 85 years later, itâ(TM)s still charming and entertaining. There are the usual sorts of cool, haunting aspects of the genre, thinking of people who had once lived full lives and walked this same earth, now long dead and buried, and wondering what it would be like to travel to the past to meet them. The film has all sorts of cute references to differences in mannerisms and language, as well as to people or events that those in 1784 wouldnâ(TM)t have known, but where it works best is in tugging on the heartstrings with a love separated by time, as cheesy as that might sound. There is something thatâ(TM)s so romantic about the line âI loved you before I ever saw you. In my first dream of you, coming from somewhere far away to meet me,â? maybe a little ridiculous too, but perhaps thatâ(TM)s what romance is. Leslie Howard and Heather Angel are strong here, and in addition to the love scenes, there is a fantastic sequence where she gets a glimpse of the future through his eyes, and is blitzed by a montage of horrifying images. Between this and his own growing disillusionment of the time heâ(TM)s now in (âDirt, disease, cruelty, smellsâ¦Lord how the 18th Century stinks!â?), we thus see the danger of glorifying either the past or the future. Itâ(TM)s tempting for me to think that by extension, itâ(TM)s showing us the need to simply be happy in the present, but thatâ(TM)s not the filmâ(TM)s point â" itâ(TM)s more along the lines of the timelessness of love, and its immortality, e.g. via an afterlife. Whether you believe that or not, itâ(TM)s a touching film, and I loved how it ended too.

A tremendously creative film featuring a mystical time traveling by Leslie Howard's character as he ventures to the period that he finds himself drawn to. Apparently the film was lost for a number of decades and I am tremendously happy that it has re-emerged.
See Details