Besieged
(1999)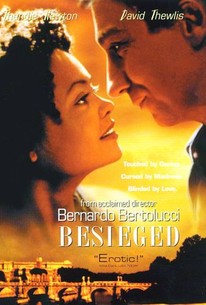 Movie Info
Set in the contrasting climates of a politically-charged Africa and the tranquil confines of an enchanting Roman villa, Besieged is a smoldering love story that bridges the gap between two very different worlds. Thandie Newton stars as the luminous Shandurai, a young African woman who has left her homeland, after having witnessed her husband's brutal abduction at the hands of an oppressive government. Disenchanted with her country, Shandurai surfaces in Rome at the home of an eccentric English musician, Mr. Kinsky (David Thewlis). Shandurai works as a maid for Mr. Kinsky in exchange for room and board while she studies medicine at the local university. The two have almost nothing in common, yet she hopelessly enchants him. The depth of his devotion will challenge the delicate balance between desire and sacrifice, sentimentalism and need, as old and new worlds meet and meld in this daring and inventive story.
News & Interviews for Besieged
Critic Reviews for Besieged
Audience Reviews for Besieged
½
Besieged was an useless combination of political and romantic drama, wandering back and forth between the two leads that never really had reached each other. The movie had an interesting beginning with the imprisonment of Shandurai's husband, but the story gradually fell apart after that. There was no emotional force driving the events in the movie and there was never any satisfying realization of Shandurai's sadness. It was fine performance by Thandie Newton in the lead, but Bertolucci's lack to balance out the two halves of the story, stopped the characters from reaching their full potential, and so we could not seen a fascinating drama. Too bad.
Daisy Maduro
Super Reviewer
A graceful, visually exquisite piece that (on a second watch) works for me despite its flaws. The languid nature of the narrative is obviously a detractor as far as audience connection goes, but it works to establish an enigmatic presence for both of the main characters. The story has a poetic sensibility that allows us to discard some of our expectations as to what the movie is going to deliver. David Thewlis is brilliant, as always, and Thandie Newton is very strong too. That's saying a lot, since the actors have very little dialogue to establish their performances with. Watch it once, think about it, and then watch it again.
½
Found the pacing to be a bit too languid.
Besieged Quotes
There are no approved quotes yet for this movie.