The Best of Youth (La meglio gioventù)
(2003)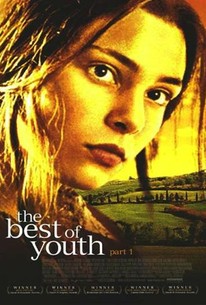 The Best of Youth (La meglio gioventù) Photos
Movie Info
Directed by Marco Tullio Giordana and La Meglio Gioventu, this film chronicles the youth, emotional development, and milestone events in the lives of brothers Nicola (Luigi Lo Cascio and Matteo Carti (Alessio Boni) between 1966 and the early 2000s. Despite being polar opposites -- Nicola is a free spirited, romantic psychiatrist; Matteo is an angst-ridden idealist and member of the Italian police force -- the brothers stay connected through the nature of life, family, and time, even during their long periods of separation from one another.
News & Interviews for The Best of Youth (La meglio gioventù)
Critic Reviews for The Best of Youth (La meglio gioventù)
Audience Reviews for The Best of Youth (La meglio gioventù)
"Youth: The Greatest Hits". I can't help but think of that when I see this film's title (Well, "Is someone getting the best, the best, the best, the best of youth?" is also in there, but I'm not really a Foo Fighters fan), which is extreme, because I doubt the a Best-Of album by Bruce Springsteen would be nearly six hours long, and considering the length of his live performances, he's got plenty of songs that people want to hear. Well, his studio stuff is pretty fall-flat and his live performances, for some reason, are pretty awesome, so I'd be hooting and hollering just over the excitement of seeing how he improves his songs, but the point is that even the Boss knows when it's time to pack his bags and head on down Thunder Road. Well, from what this film is telling me, while Spanish Johnny is telling Puerto Rican Jane goodnight, the Italians are still out to play, so I reckon that we better forget about the illegal immigrants (I'm sure Springsteen with all of his obnoxious liberalism is sold on my proposal with that part alone) and keep an eye on New York and New Jersey (Oh, I just lost Bruce, because he's not letting anyone mess with Jersey), because even the Italians' artistic stylistic choices when it comes to cinematic storytelling appear to get mighty questionable at times. Eh, I'd probably surrender, because I do prefer the Italian language, architecture, music and cuisine (Oh boy, the cuisine; forget tacos!), and besides, the Italians have been known to make pretty good films that get carried away with their artistic license, like this film. Shoot, forget pretty good, this film is awesome, and I must say that I'm a touch surprised, because contrary to what young people believe, they are hardly three hours worth of excitement, let alone six hours. Of course, I can't honestly say that this film is consistently exciting either, because even though this drama is deeply rewarding, and certainly more compelling than your usual batch of young people problems, intrigue takes some damage. Considering the unusual immensity of this film's runtime, as well as the film's, well, being Italian, it's easy to think that it might get to be too experimental for its own good and slip into dull artistry, and you can rest easy knowing that this film very rarely, if ever gets way too carried away with its artistic license, and keeps consistent with some degree of entertainment value, yet a film this thoughtful can go one for only so long without hitting a slow spell, and sure enough, the quietness of the film and steadiness of the plot structuring blands things up a smidge. The drama is simply too long to consistently sustain your interest, as surely as it is simply too long and layered to keep consistent with its focus, because while the film is not as uneven as it easily could have been, certain characters and plot aspects go abandoned, jar back and get rather sloppily juggled while the film struggles to find the proper place for everything (I'm not going to say much, but the last two hours of the film follow only one of the two leads). Again, the film is by no means as messy as it could have been as a very extensive and layered dramatic epic, but all of this juggling of the plot layers convolute things a bit after a while, and yet, there is at least one aspect to this film's plotting that stays consistent within most every layer. Needless to say, the concept of making a six-hour-long character drama is unique, and there are enough refreshing areas throughout this film for your investment to never get too shaken, but in more than a few places, the film unfortunately succumbs to conventions, and enough of them for predictability to set in after a while, even though you'll have to wait a long time to see if your predictions come true, seeing as how this film also takes way too long to tell its familiar story. Okay, maybe the film doesn't take "way too long" to tell its worthy tale, because the level of tightness in this film's considerable extensiveness as a meditative character drama is nothing short of outstanding, considering that the film runs a startling six hours, but it is limited, because no matter how compelling and assured this film may be in its storytelling, its lengthiness leaves rises and falls in narrative to grow sparse, thus leaving the final product with aimless spells that give you opportunities to meditate upon the natural shortcomings of the film, of which there aren't very many. The film's subject matter is very weighty, but the conflicts have thin spots, and after a while, it gets to be harder to ignore the thin spots within this worthy story concept, no matter how much the film pumps up its highlights to catch up, because even though this film conquers the somewhat pressing challenge of achieving bona fide excellence, it has the strengths to go further, and would have were it not for excessive areas in its ultimately worthy runtime, which goes on too long to consistent evade slow-downs and uneven points. Of course, in the super-long run, the strengths greatly overpower the shortcomings, and it's not like this film boasts a wealth of strengths, just an immense inspiration that goes a long way and keeps you invested, even with some relatively lighter commendable touches. Quite frankly, I was sold on this film from its very first bit of sound: the Animals' "House of the Rising Sun", a somewhat overused classic soundtrack piece, sure, but one that serves as an awesome way to let people know what to expect, at least when it comes to the musical department, and as sure as sunshine, when a tune finally comes around to kicking in, whether it be a classic mainstream hit or even the occasional classical masterpiece, it's just about always a delightful compliment to the selling of this film's progression and tone that colors things up quite a bit, much like highlights within Roberto Forza's often kind of flat, but just as often handsomely well-defined, and sometimes gorgeously inspired cinematography. Yeah, not even this film's artistry, both musical and visual, is too terribly upstanding, but it, like most every other strength of the film, has a subtle inspiration to it that is really endearing, and sometimes remarkable as a compliment to the compellingness of the film, which is, of course, even more brought to life by the portrayals of the characters this extensive human drama would be absolutely nothing without. This film offers extremely worthy characters who deserve nothing less than strong portrayals if the final product is to achieve excellence, and seeing as how this character study is, in fact, excellent, the hefty cast delivers, whether when we're looking at such memorable supporting players as Jasmine Trinca - who is show-stealingly convincing as a mentally unhealthy young woman whose mistreatment from those who should be helping her only plunges her deeper into instability - and Sonia Bergamasco, - who captures the subtle depths of a countercultural idealist whose maturing as a family woman comes to heavily affect her views on her life and those who are a part of it - or a pair of leads who carry the film, because whether it be Luigi Lo Cascio as the brother who comes to find that success comes with more struggles than expected, or Alessio Boni as the brother who finds expected struggles and unexpected rewards in his efforts to meet his shortcomings with new experiences and chances for success, the central focuses of this mostly double-narrative family drama deliver convincing and layered performances, as well as electric chemistry, which sell you on the parallels between those who develop along different paths in life. Material is too limited for our performers to be truly great, but there's so much time for Boni and Cascio to flesh out their characters, and they waste none of it, drawing deeper and deeper into the hearts and souls of their roles until, after a while, they become their layered characters, selling the extensive transformations that drive this drama's story, which deserves to be driven by as much inspiration as it can get. Sure, like I said, this film's story isn't the most original, nor is it the juiciest as a drama, but it is rich with potential that screenwriters Sandro Petraglia and Stefano Rulli fail only to squander, turning in a script whose cleverness keeps entertainment value up through sharp dialogue and colorful lighter spots in plotting, and whose exhaustive extensiveness may get to be excessive at times, but is mostly highly effective in its making characterization well-rounded, and running out the clock with important material that only draws you further into this opus which demands a great investment of time and energy. You may grow to notice what natural shortcomings there are to the film the more things go along, but you also grow to notice the value of this drama the more it unravels, and for this, credit is not only due to Petraglia and Rulli for their worthy efforts as the writers, but also due to director Marco Tullio Giordana, whose ambition is fulfilled time and again by delivering on a thoughtfulness in atmospheric storytelling which may slow things down a bit too much at times, but soaks up enough of the intrigue from this subject matter to keep entertainment value alive more often than not, and milk the weight of the dramatic highlights for all their worth, resulting in a moment of genuine resonance to break up consistent and ever-augmenting compellingness. When reviewing a film this excellent, I typically like to slap down an extra paragraph discussing the outstanding quantity of strengths, but really, in terms of quantity, there's only so much praise about this film, it's just that what strengths there are go a long, long way in sustaining thorough compellingness, and considering the length of this effort, that's nothing short of mighty impressive, because regardless of the shortcomings and excessiveness, the film engages immediately and slowly, but surely, grows more endearingly realized, resonant and altogether engrossing, until by the end, I didn't simply find that my six hours were in no way wasted, but found a surprisingly powerful final product whose value, and worthy celebration of such value, makes this epic dramatic opus - nay - experience a profoundly rewarding one. When it's all said and done, slow occasions and moderately uneven moments in focus retard momentum a bit, while excessive areas in the film's considerable length inspire aimless moments that leave you to meditate upon natural shortcomings about as much as considerable strengths, but the fact of the matter is that you are given plenty of time to soak up the many aspects of this film that are done remarkably well, from an enjoyable unoriginal soundtrack and handsome cinematography, to the inspired acting, - particularly from transformative leading men Luigi Lo Cascio and Alessio Boni - extensive writing and thoughtful direction that bring sometimes powerful, often entertaining and consistently highly compelling life to a story that is worthy enough for "The Best of Youth" to stand as a thoroughly rewarding dramatic epic which wastes none of your six hours. 3.5/5 - Excellent
Cameron Johnson
Super Reviewer
When I stumbled upon this movie, its length amazed me. But more than that I was amazed by its viewers' (and critics) rating. Although it didn't belong to my favorite genre, I decided to give it a go. A few people might exaggerate (or overrate the movie), but if so many people liked it despite of its lengthy runtime, it surely would be worth checking out. Needless to say, I fell for it. No sooner did the movie begin, I found myself reasonably immersed in it. The first part went off quite smoothly (not flawlessly, though). The second part was a drag, and most of it was unnecessary IMO. And I'd have liked it better if the actors playing Matteo and Nicola had swapped their roles. Well, all things considered, it was an alright experience.
familiar stranger
Super Reviewer
½
Inspired by a Pasolini poetry collection, this is a stunning cinematic opus spanning 40 years in the Carati family. Italian culture, North and South, is explored through personal and political landscapes. This film notes the resurgence of Italian cinema, which was so often criticized in the eighties. As with the best films, you will laugh and cry, as you identify with the emotions and experiences. An engaging and enriching film not to be missed!
Stefanie C
Super Reviewer
The Best of Youth (La meglio gioventù) Quotes
There are no approved quotes yet for this movie.