372 le Matin (Betty Blue) (37.2 Degrees in the Morning)
(1986)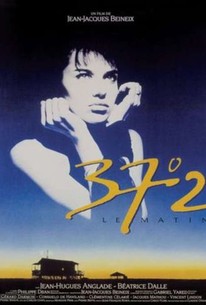 372 le Matin (Betty Blue) (37.2 Degrees in the Morning) Photos
Movie Info
Jean-Jacques Beineix's Betty Blue stars Béatrice Dalle as the title character, a mentally unbalanced and sexually aggressive free spirit who becomes involved with Zorg (Jean-Hugues Anglade), a repairman moonlighting as a writer. The two engage in a variety of sexual encounters, and grow more passionate toward each other. Betty finds Zorg's book and is aggressively supportive; over time, her mental and emotional instability begin to catch up with her and drive her to the point of romantic obsession with Zorg -- leading to a grisly and shocking conclusion.
News & Interviews for 372 le Matin (Betty Blue) (37.2 Degrees in the Morning)
Critic Reviews for 372 le Matin (Betty Blue) (37.2 Degrees in the Morning)
Audience Reviews for 372 le Matin (Betty Blue) (37.2 Degrees in the Morning)
A part-time writer, full-time handyman falls for a effervescent but troubled woman. Jean-Hugues Anglade shines in this French classic with a passionate, exposing performance. I wish I could say the same for Beatrice Daile who was handed a gem of a role, but she doesn't capture Betty's life, her spirit, the magic quality needed to justify Zorg putting up with her antics. If Betty Blue were Garden State and Natalie Portman's character burned down Zach Braff's house or threw all his stuff onto the lawn, we'd still understand why he'd stay with her because of her charm and wit and the excited feeling one gets from being in the presence of someone like that. Such is not the case with Daile's Betty. I liked the film for what it tried to be more than for what it was. Betty Blue is about those relationships that send our lives into tumult but show us ways of being happy that we'd never imagined before. Yes, it descends into traditional definitions of happiness, like procreation and idyllic homes in the south of France, but there are uncommon challenges like Betty pushing Zorg out of his stagnant handyman existence. The conclusion of the film made a twisted kind of sense, and it's only Anglade's performance that kept it from being too twisted to be sensible. Overall, Betty Blue isn't a great film, but it tries hard enough, and I can't help thinking what another actress could have done with Betty.
Jim Hunter
Super Reviewer
Beatrice Dalle was a pin-up on many an 80's adolescent wall after this, her first role as the gorgeous, nubile, wild, flaky Betty. Twenty five years later and the film still holds up, looking like it was made yesterday, with the added bonus of being able to google Dalle at the end and find out the sheninigans she's been getting up to ever since. A must-see once in your life, preferably when adolescent.
Singular and extravagant characters driven by their most basic instincts. living love, lust and insanity to its fullest. Pictorially and musically beautiful. A feast for the senses when you have a wacky sense of humour and a weak spot for stories of intense couples in a vital quest.
Pierluigi Puccini
Super Reviewer
372 le Matin (Betty Blue) (37.2 Degrees in the Morning) Quotes
There are no approved quotes yet for this movie.