Beyond Re-Animator
(2003)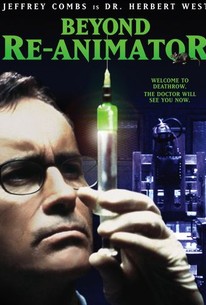 Beyond Re-Animator Photos
Movie Info
Once again tampering with mother nature to disastrous results, Dr. Herbert West (Jeffrey Combs) continues his research in director Brian Yuzna's second sequel to the 1985 splatter classic Re-Animator. Currently serving time in a maximum security prison for his previous exploits, West's limited prison-cell experiments are suddenly interrupted by the arrival of Howard Phillips (Jason Barry), the new prison doctor and the brother of the girl who suffered from West's experiments 13 years earlier. Knowledgeable of West's previous experiments and eager to assist the mad doctor in continuing his studies, the naive Phillips discovers that West's continued studies have revealed a more effective means of bringing back the dead -- the removal of an individual's Neuroplasm, or soul, and the injection of it into a newly reanimated corpse. An electrical phenomenon discharged at the moment of death, with the discovery of the Neuroplasm West may have finally discovered the missing link to effectively bringing life to death. Or not.
People Who Like this movie also like
News & Interviews for Beyond Re-Animator
Critic Reviews for Beyond Re-Animator
Audience Reviews for Beyond Re-Animator
Well, well, third entry in the Re-Animator franchise and Dr Hebert West is doing what he's doing best, reanimating dead tissue. This is a well executed third entry, and it manages to keep everything that you'd expect from a Re-Animator film. What makes this film worth watching is the gore itself, beautiful, disgusting and downright off the wall. This film is pure carnage and Re-Animator fans will enjoy this film. A terrific horror comedy, that considering is a third entry to a film that is deemed a horror classic, this film works well at establishing what you'd expect, and it goes beyond that. The films' acting is questionable of course, only Jeffrey Combs as Hebert West, the mad scientist trying to find a cure for death is the only talent4ed actor in this film. Comb's performance delivers, and he makes West one of the best horror villains in the genres history. Of course Beyond Re-Animator is nothing compared to the first, but for a third entry, it's a pretty good one at that. The film will appeal to the fans of the first. Considering that by the second sequel, a franchise looses its spark, Re-Animator hasn't lost anything. The gore and the wacky humor are still there, and the film is pretty entertaining. However considering that I'm such a fan of the original, I think that this third entry keeps every element intact. But of course this third entry will never outdo the original. A good entry in the series, and a memorable horror comedy too.
½
Dr West continues his research in prison aided by an idealistic young doctor but his seemingly successful new serum contains an unfortunate and unforeseen side effect. Obviously trying to recapture the gory fun of Sam Raimi's early work, Beyond Reanimator's budget clearly limits its options but it still remains a tongue in cheek gorefest much in the spirit of the original. Jeffry Combs returns as the obsessive and amoral West and is joined by a no-name cast who gamely dismember each other surrounded by some adequately rendered blood and guts. The main drawback is the fact that the set up is far more effective than the pay off as it descends into novelty gore and nudity coloured by some outright silliness rather than exploring the darker themes of the idea. But if it's a cheap and cheerful horror B-movie that doesn't tax the higher brain functions too much you want, you could do a lot worse.
It's fun and a great follow up. Jeffrey Combs came off even more bat shit crazy in this and his sarcasm made it all the more funny. I'm glad there wasn't a whole lot of cgi, it didn't even feel like a straight to dvd release. The direction was really good and they got some crazy camera angles thrown in, which added some new absurdity to the story of Herbert West.
Conner Rainwater
Super Reviewer
Beyond Re-Animator Quotes
| | |
| --- | --- |
| Dr. Herbert West: | There's a new early release program and I qualify. |
| | |
| --- | --- |
| Dr. Herbert West: | She's not getting any fresher. |