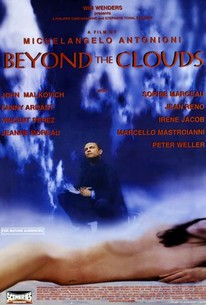 Beyond the Clouds
1995, Drama, 1h 53m
22 Reviews
2,500+ Ratings
Rate And Review
Movie Info
The observations of a filmmaker (John Malkovich) separate four vignettes about tormented love affairs.
Audience Reviews for Beyond the Clouds
from wim wenders, stories about love, lost love,and passion,some interesting moments,and acting from the cast, some stories are better than others, so its worth the watch,

At best, "Beyond the Clouds" is a multi-angled look at the delicacy of romance. At worst, it's like Antonioni channeling Zalman King. Just another made-for-cable softcore flick. The corny use of mood music -- including poor Van Morrison -- doesn't help, and is truly appalling at times. In what may be his most embarrassing role since "Making Mr. Right," John Malkovich plays an American director wandering the rustic streets of Italy, seeking inspiration for his next film. He doesn't have many lines, and mostly just looks vacantly inquiring. This simple premise provides the framework for observing various romantic vignettes -- five central ones, plus a short, sentimental scene with old pros Marcello Mastroianni and Jeanne Moreau. Typically for Antonioni, none of the segments except the last one (starring Irene Jacob as a pious woman being pursued by an oily suitor) have any real payoff. The stories just drift into view, then fade away again. Peter Weller and Jean Reno add further star charisma, but not much else. In this artificial world, sexual chemistry between strangers is a given, mainly based on heavy breathing, solemn walks, ponderous gazes and stilted philosophical musings such as "Voices never become part of you like other sounds" and "It's strange -- we always want to live in someone's imagination." Otherwise, the motivations for hopping into bed can be hard to understand, particularly in the case of world-class beauty Sophie Marceau being immediately drawn to pale, wormy Malkovich. Marceau's sequence is the lamest of all, but its gratuitous nudity will please...well, just about anyone who enjoys looking at naked women. In particular, there is one needless, lingering shot of a full-frontal Marceau which is pure cheesecake. Thank you, Signore Antonioni! At least two other slim beauties parade their physical charms, but it's minor compensation. Arguably, the film's best (and most "Antonioni-esque") moment is a solitary scene with Malkovich reflecting at an overcast beach, where ocean waves and wind-swept sand magically blend into one eerie landscape. Gorgeous. Eventually, Malkovich's character wraps up the action by noting "The director's profession is a very particular one." It's hard to think of a movie with a worse final tag line.