Bidder 70
(2013)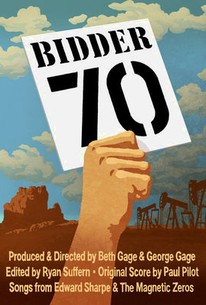 Movie Info
In 2008, as George W. Bush tried to gift the energy and mining industries thousands of acres of pristine Utah wilderness via a widely disputed federal auction, college student Tim DeChristopher decided to monkey-wrench the process. Bidding $1.7 million, he won 22,000 acres with no intention to drill. For this astonishing (and successful) act of civil disobedience he was sent to federal prison. Beth and George Gage's new documentary BIDDER 70 tells the story of this peaceful warrior whose patriotism and willingness to sacrifice have ignited the climate justice movement. (c) First Run Feautures
Critic Reviews for Bidder 70
Audience Reviews for Bidder 70
½
Environmental activist Tim DeChristopher served 21 months in prison for protesting gas and oil leases on and near pristine Utah public land by bidding on the leases himself (p.s. he didn't have any $$$$). DeChristopher served 16 more months than did the then-billionaire, omni-media goddess, Martha Stewart, for chump change, embarrassingly nominal, yet profoundly greedy, insider trading and securities fraud -- and 21 months more than Jamie Dimon CEO and Chairman of Too Big Too Fail JP Morgan Chase, and Lloyd Blankenfein, CEO and Chairman of Too Big Too Prosecute Goldman Sachs, WILL EVER SERVE (if ever charges are brought against the golden gods of Wall Street by the U.S. Department of Justice *Denied* (USDOJD). A lesson in courage.
Kim Tapio-Nuzzo
Bidder 70 Quotes
There are no approved quotes yet for this movie.
Discussion Forum
Discuss Bidder 70 on our Movie forum!