The Big Trail
(1930)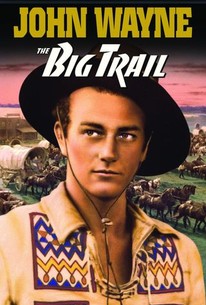 Movie Info
The first "epic" western of the talkie era, The Big Trail is motivated by a hero's search for the murderer of his father. Twenty-three-year-old John Wayne, hitherto limited to bit parts, was thrust into the difficult leading role, a young mountaineer put in charge of a huge California-bound wagon train. Over the next several months, Wayne and his fellow pioneers face every imaginable hazard and disaster, from blistering desert heat to blinding snowstorms, negotiating steep cliffs, treacherous rivers, uncharted forests and other such natural obstacles. Meanwhile, Wayne's tentative romance with heroine Ruth Cameron (Marguerite Churchill) is continually thwarted by a charming but duplicitous gambler (Ian Keith), and all-around villain Red Flack (Tyrone Power Sr.) and his henchman Lopez (Charlie Stevens) ceaselessly plot to double-cross the other wagon-trainers for their own financial gain. The Big Trail was a box-office disappointment, a fact which some have attributed its expensive production methods. Each scene was lensed twice, once in 35-millimeter and then in the 65-mm "Fox Grandeur" wide-screen process. And then, each dialogue scene was filmed in French and German, with totally different casts. Even if Big Trail has been a big hit, it would have lost money thanks to the time-consuming shooting and reshooting of virtually every scene. Whatever the case, it was John Wayne who suffered most from the film's failure; instantly demoted to "B"-westerns, it took him nearly a decade to rebuild his stardom. Long believed lost, The Big Trail was made available for exhibition again in the early 1970s -- and in the 1990s the original widescreen version was at last restored for public view.
Rating:
NR
Genre:
, ,
Directed By:
Written By:
In Theaters:
On DVD:
Runtime:
Studio:
Twentieth Century Fox Home Entertainment
Critic Reviews for The Big Trail
Audience Reviews for The Big Trail
The film version i had on blu-ray contained both the regular 35mm print at 108 minutes and the "Fox Grandeur" version filmed at 70mm and running 122 minutes. The Fox Grandeur version is certainly the way to watch it in my opinion and really showcases the vast landscapes and wide-open space of the land. While the cinematography was impressive, the film's simple narrative, wooden acting on John Wayne's part and the scope was a little ambious for what we are given in the final product. The film apparently was a financial failure as it was filmed two times and dubbed in French and German as well as the native English and the costs were substancial. The film is essential viewing I would think for John Wayne films, and while he would work on B-westerns the next nearly decade it eventually got him to the fame he would gain one day and become the star of such greats as Stagecoach and countless other A-films to come.
Chris Browning
Super Reviewer
A pretty spectacular looking film. John Wayne being a badass before becoming John Wayne. I now have a new found respect for Raoul Walsh. Long, but epic.
Robert Iwataki
½
This was interesting to watch as there are 2 versions of the film. Both basically the same but limitations of cinema tech caused the film makers to shoot using 2 cameras- a early 70mm version and a 35mm version. Apparently, they would set for the 70mm and the 35mm would find a spot nearby- causing it to have at times drastically different angles than the 70mm. Another drawback was the sound recording tech- which causes a lot of the dialogue to be lost. The 35mm and 70mm also differ in shots and scenes used for the release versions as tehy were edited at the same time but apparently there was not an effort to make sure they matched shot by shot. Action/story wise its a very decent western, with a few title cards- harking to the recently then departed silent film era. JohnWayne is a rough amateur actor here, but does a good job as he keeps up with veteran character actors of that era.
Bobby Diablo
The Big Trail Quotes
There are no approved quotes yet for this movie.