Birdemic: Shock And Terror
(2008)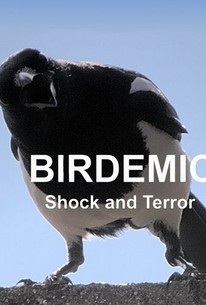 Birdemic: Shock And Terror Photos
Movie Info
This low-budget thriller follows a sexy lingerie model and her computer engineer boyfriend as they take a pleasant trip to Northern California, only to discover that legions of malicious birds are descending on human kind. Soon, the couple's dream vacation becomes a battle for humanity's survival. ~ Cammila Albertson, Rovi
Critic Reviews for Birdemic: Shock And Terror
Audience Reviews for Birdemic: Shock And Terror
An embarrassing dreck that is so bad it defies comprehension, with what seems to be the most incompetent editing and worst (unmixed) sound ever. And what to say of those ridiculous CGI birds? Even Ed Wood would run away from something like this. (Zero stars)
Carlos Magalhães
Super Reviewer
James Nguyen has constructed the worst piece of cinema in history, and the final product shows that he has never been to film school, never studied films or how to make them for that matter, and it became a cluster F$#K of a movie, filled with cheap gags, the worst visuals on the face of the earth, stomach turning sound design, horrendous editing, and direction that makes absolutely no sense. With takes being reused over and over again and effects that could have been created by a kid in grade school learning after effects, "Birdemic" is THE WORST film I have ever seen and will ever see. The funny thing is, I hoped the entire time, that this film was a joke, but it is surely not. Let's just say that you must be extremely bored if you take the time to watch this thing.
While the Room is so amazingly bad it's amazing, Birdemic is so amazingly bad it's painful. Must be seen to be believed. Can't wait for the sequel in 3D Extra bonus: My elementary school principal is in this.
Ken Stachnik
Super Reviewer
Birdemic: Shock And Terror Quotes
There are no approved quotes yet for this movie.