BKO: Bangkok Knockout
(2010)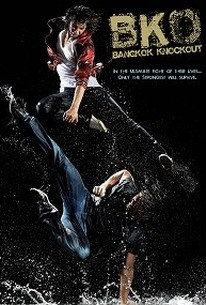 AUDIENCE SCORE
Critic Consensus: No consensus yet.
Movie Info
A diverse group of fighters team up to rescue their friend from kidnappers, using their various disciplines to punch, kick, and smash their way to victory in this high-energy martial arts extravaganza from legendary Thai director Panna Rittikrai (Ong Bak, Born to Fight).
Critic Reviews for BKO: Bangkok Knockout
All Critics (1) | Fresh (1) | Rotten (0) | DVD (1)
But who really cares about filmmaking fundamentals when the force of aggression registers off the charts, working countless fights and agreeable acts of heroism into a superbly entertaining blast of brutality.
Audience Reviews for BKO: Bangkok Knockout
Thai stuntmen hate themselves.
Tsubaki Sanjuro
Super Reviewer
Welcome to one of the most intense martial-arts/stunt films made without CGI. Helmed by Panna Rittikrai, the bloke who wrote Ong-Bak, this fist fighter acts as a lesson in exceptional combat choreography. Not that it matters, but the story follows a martial arts team caught in an underground gambling death trap. Naturally, the only way to survive is to fight. The incredibly realistic smackdowns are mesmerising, including wildly creative cage-fighting scenes. Most impressive among Rittikrai's stylish arsenal are the long takes during fights, which emphasise the skill and natural fluidity of his charges. Unfortunately, the entertaining action sequences allow no room for any motion of competent acting, plot or logic.
Dean McKenna
Super Reviewer
½
07/05/2011 (ONLINE) BIG BROTHER Muay-Thai style!! It may not be the plot of the century but its totally kick-butt, bone-breaking with sour facials and pain twisting action!! There are times I'm like, "No way" and times when I'm like "Are you serious? That looked totally real" and only to find out that it is!! These guys are 9 of "Tony Jaa's" apprentices!! No wonder it's all real.... Once the action picks up its a power punching, kicking, elbowing and kneeing, head-butting salad. A tornado of unbelievably cruelty to the body action. Sadly for me the subtitles was a turn off with misspellings and sentences with missing words and even letters replaced with underscores most of the time making no sense, so no use reading it but luckily the action drew me in enough not to give it a miss. A very lengthy start for me but I'm glad my patience didn't dwindle too quick which allowed me to hang on until my interest ignited and also the cool trailer I saw. I really enjoyed the fight scenes and the angles and the amazing sacrifices they made to bring us B.K.O. "Bangkok Knock Out!!"
EightThirty .
Super Reviewer
BKO: Bangkok Knockout Quotes
There are no approved quotes yet for this movie.