Blackmail Is My Life
(1968)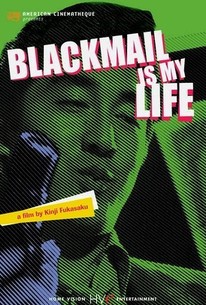 AUDIENCE SCORE
Critic Consensus: No consensus yet.
Blackmail Is My Life Photos
Movie Info
A young swinger finds that his criminal habits have gotten him in over his head in this rare 1960s yakuza film from legendary Japanese director Kinji Fukasaku. Though he has come from a rough background on the streets, Muraki (Horoki Matsukata) quickly rises through the ranks by means of his well-honed blackmailing instincts. Desperate to keep rolling with his freewheeling lifestyle, Muraki sees his luck begin to crumble when he sets his sights on the business partners of a powerful gang boss. ~ Jason Buchanan, Rovi
Critic Reviews for Blackmail Is My Life
All Critics (1) | Fresh (1) | Rotten (0) | DVD (1)
Fukasaku wields his camera with such abandon that you worry for the equipment's physical safety, the psychic welfare of the editor coming next to mind
June 29, 2004 | Rating: 3.5/5
Audience Reviews for Blackmail Is My Life
Made in 1968, Blackmail Is My Life doesn't quite have the gritty social realism of the exploration of the Japanese underworld that would evolve in Kinji Fukasaku's crime dramas of the 70's, but what the film lacks in realism, it makes up for in the director's stylish approach. Kinji Fukasaku takes a routine crime melodrama and gives it an art house sophistication that helps further the script's flat exposition.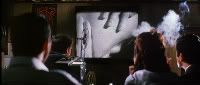 El Hombre Invisible
Super Reviewer
Based off of Shinji Fujiwara's book, Blackmail Is My Life comes to life at the hands of Kinji Fukasaku.
The first half of this 90 minute crime adventure is a little weak on the plot, but that isn't to say that it isn't entertaining. This film is all about blackmailing, and in the early going it employs multiple small blackmails, while the the second half is one big one.
The pacing is pretty fast and there are a lot of still shots with narration to help explain things that have already taken place. The blackmails themselves aren't all that elaborate and this isn't surprising. This film is from 1968 after all. Speaking of 1968, the film quality isn't that bad, however there are a few sequences in the middle that are a bit dark.
The characters are the highlight of the film, although some of the supporting cast does lack some background, unlike the main character of Shun. Hiroki Matsukata, Tomomi Sato, Akira Jo, and Hideo Murota round out the blackmailing team of 4 with good performances.
The story for Blackmail Is My Life does take a while to get going, but Fukasaku's directing is enough to make up for this. A good watch.
Blackmail Is My Life Quotes
There are no approved quotes yet for this movie.