Blame It on Fidel (La Faute a Fidel)
(2006)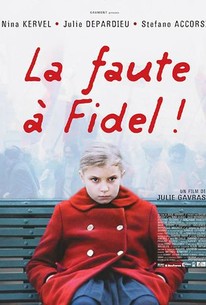 TOMATOMETER
AUDIENCE SCORE
Critic Consensus: Blame it on Fidel is a charming comedy of manners, class, and politics, elevated by a remarkable performance from lead child actor Nina Kervel.
Blame It on Fidel (La Faute a Fidel) Photos
Movie Info
When her wealthy parents are suddenly motivated to take an overtly political stance as massive political and economical change sweeps through France, the daughter of a wealthy Spanish lawyer and a successful French journalist attempts to make sense of her once-stable world as everything she thought she ever knew is turned upside down. Anna (Nina Kervel) is a nine-year-old Catholic schoolgirl who excels in catechism class and knows how to hold a knife and fork while cutting her fruit. Her father, Fernando (Stefano Accorsi), comes from a prominent Spanish family and her mother, Marie (Julie Depardieu), is a well-known writer for a popular French women's magazine. Also sharing the family's sprawling home is Anna's younger brother, François (Benjamin Feuillet). When the increasing militancy of Fernando's communist sister begins to pose a threat to the family, the concerned brother stealthily travels to Spain and successfully smuggles his sister back into France. Fully indoctrinated in the belief that all communists are bad, Anna struggles to understand why, after returning from a trip to Latin America, her parents seem to have developed a strong social conscience. Meanwhile, as the thunderous footsteps of eager revolutionaries begin to echo through the hallways and mom begins to prepare a book protesting the illegality of abortion, Anna does her best to adapt to the strange new environment. The fiction feature debut of filmmaker Julie Gavras (daughter of celebrated filmmaker Costa), Blame It on Fidel! playfully covers the year in which the death of Charles De Gaulle, the election of Salvador Allende, and a landmark petition signed by 300 French women admitting to undergoing illegal abortions altered the way many Europeans viewed the world. ~ Jason Buchanan, Rovi
People Who Like this movie also like
News & Interviews for Blame It on Fidel (La Faute a Fidel)
Critic Reviews for Blame It on Fidel (La Faute a Fidel)
Audience Reviews for Blame It on Fidel (La Faute a Fidel)
½
Interesting, but slightly difficult to follow, tale of young French girl whose parents become political activists. The acting is very good (especially the children), but the story is very slow going. Concentrating on the children, though, I did enjoy it due to them.
Cynthia S.
Super Reviewer
Very interesting to see how this girl grows and learns from everything that happens. She takes everything in and analyzes it. Quite wonderous.
Leigh Ryan
Super Reviewer
[font=Arial]I was reminded of an exercise in relgion class(Catholic division) where we were shown how much more could be accomplished in a unit with a single, strong leader...[/font] [font=Arial][/font] [font=Century Gothic]In "Blame It on Fidel," it is 1970 and Fernando(Stefano Accorsi), a lawyer, is frustrated and wants to become more politically involved, despite already housing his sister, Marga(Mar Sodupe), and niece, Pilar(Raphaelle Molinier), two refugees from Franco's Spain. So, he and his wife, Marie(Julie Depardieu), a writer for Marie Claire magazine, depart for South America, leaving their young children, Anna(Nina Kervel-Bey) and Francois(Benjamin Feuillet), in the care of their housekeeper, Filmomena(Marie-Noelle Bordeaux), a refugee from Castro's Cuba. On their return, Fernando announces plans to help the elected president of Chile, Salvador Allende, from afar. But now the family has to give up their spacious house in return for a smaller apartment. And Anna is none too pleased to be sharing a room with her younger brother...[/font] [font=Century Gothic][/font] [font=Century Gothic]"Blame It on Fidel" is a uniquely charming coming of age story told from the vantage point of Anna who is certainly perplexed at the changes in the household which reflect the turbulent nature of the world she is growing up in. Naturally curious, she absorbs some of her knowledge through osmosis but also through direct interaction with her parents and their friends, thus proving that it is never a good idea to keep children ignorant. But the parents do seem a little doctrinaire at times.(For example, I would not say Mickey Mouse is fascist. Donald Duck, maybe.) Remember, Fernando and Marie's politics do not change, just their level of involvement. Throughout they believe in the power of democracy to better the world and for Salvador Allende, certainly no Communist, to be a fine instrument for progressive change in the world. [/font]
Blame It on Fidel (La Faute a Fidel) Quotes
There are no approved quotes yet for this movie.