Bleed For This
(2016)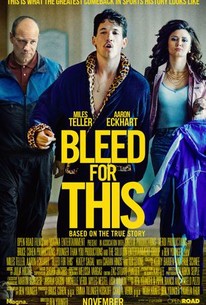 TOMATOMETER
AUDIENCE SCORE
Critic Consensus: Bleed for This rises on the strength of Miles Teller's starring performance to deliver a solid fact-based boxing drama that takes a few genre clichés on the chin but keeps on coming.
Movie Info
BLEED FOR THIS is the incredible true story of one of the most inspiring and unlikely comebacks in sports history. Miles Teller (Whiplash, Divergent) stars as Vinny "The Pazmanian Devil" Pazienza, a local Providence boxer who shot to stardom after winning two world title fights. After a near-fatal car accident leaves Vinny with a broken neck, he is told he may never walk again. Against all odds and doctor's orders, renowned trainer Kevin Rooney (Aaron Eckhart) agrees to help Vinny return to the ring just a year after the accident for what could be the last fight of his life.
News & Interviews for Bleed For This
Critic Reviews for Bleed For This
Audience Reviews for Bleed For This
A decently performed and executed come-from-behind boxing movie that gets you to keep watching despite your knowledge of having seen it all before.
Kevin M. Williams
Super Reviewer
My only concern is all the boxing movies that came out in 2016 lacked heart, this movie was much better then Hands of Stone, no debate. The cast is great but the kickoff doesn't setup the rest of the movies plot, you don't really care for the rehabilitation or return to the ring. The boxing scenes are well handled and the screw removal scene is near unwatchable. There is a lot of good in this film but fails to be great. The direction just isn't at the form of the actors and it's a shame, this could've been one of the better boxing movies based on the true story itself. The film just fails to deliver a strong character driven film, which it does attempt.
Brendan Nicholls
Super Reviewer
Though the national stage for boxing has only seemed to grow smaller and smaller over the years Hollywood's infatuation with the sport has only grown stronger. Between Southpaw and the generally terrific Creed last year to Hands of Stone and now Bleed for This the question around the story of Vinny Pazienza was always going to be not what made it worth telling-we know what the hook is-but more what makes this film in particular worth watching as the options for such sports dramas are continually growing. One could go on to discuss the committed and rather spectacular performance that Miles Teller gives in the role Pazienza, or the cool aesthetic that matches the time period in small, effective ways, but despite the casts best efforts and writer/director Ben Younger's endeavor to paint more a portrait of a man determined to overcome the odds rather than going through the motions of another redemptive sports tale, Bleed for This unfortunately ends up reducing itself to just that. It's a difficult place to be in as the genre trappings of such a film are so familiar and so easily relied on at this point that it is difficult to conjure up any such alternate as to how to go about telling such a story. Younger clearly has a knack for visual storytelling and each of the performances on display here, with the supporting turns from Aaron Eckhart, Ciarán Hinds, and Katey Sagal standing strongly next to Teller's lead performance, are far more than competent and in fact add heavily to the overall arc these characters experience allowing them to not just remain stock characters. This is key as it's always the characters who are going to allow pieces like this to stand out. Younger and his cast are able to create fully realized human beings who come across not as functions for the purpose of this movie or who are only present to further certain plot strands, but instead as individuals who have found themselves in the circumstances of this dour situation who are each trying to figure out how best to deal with it. Sounds rousing, right? Maybe even inspiring? It certainly could be as Bleed for This has all the right moves to make it a cornerstone boxing movie, but pacing issues and a lack of any heavy emotional impact leave this one stranded in the middle of the ring. read the whole review at www.reviewsfromabed.com
Philip Price
Super Reviewer
Bleed For This Quotes
There are no approved quotes yet for this movie.
Discussion Forum
Discuss Bleed For This on our Movie forum!