Blindspotting
(2018)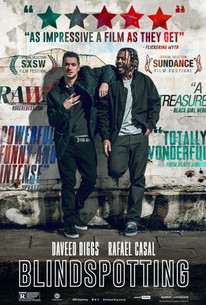 TOMATOMETER
AUDIENCE SCORE
Critic Consensus: As timely as it is overall impactful, Blindspotting blends buddy comedy with seething social commentary, and rises on the strength of Daveed Diggs' powerful performance.
Movie Info
Collin (Daveed Diggs) must make it through his final three days of probation for a chance at a new beginning. He and his troublemaking childhood best friend, Miles (Rafael Casal), work as movers, and when Collin witnesses a police shooting, the two men's friendship is tested as they grapple with identity and their changed realities in the rapidly-gentrifying neighborhood they grew up in. Longtime friends and collaborators, Daveed Diggs and Rafael Casal co-wrote and star in this timely and wildly entertaining story about friendship and the intersection of race and class set against the backdrop of Oakland. Bursting with energy, style, and humor, and infused with the spirit of rap, hip hop, and spoken word, Blindspotting, boldly directed by Carlos Lopez Estrada in his feature film debut, is a provocative hometown love letter that glistens with humanity.
News & Interviews for Blindspotting
Critic Reviews for Blindspotting
Audience Reviews for Blindspotting
½
It is hard to see an intelligent film that transits so smoothly from buddy comedy to serious drama within a structure that is essentially Shakespearean, with characters that never seem less than real and a hard-hitting racial statement delivered with the necessary acuity and perception.
Carlos Magalhães
Super Reviewer
The movie finds an elegant balance between it's more hard edge commentary and the broad humor. I think because Diggs and Casal are real life friends, there is an authenticity to the movie that might not be there otherwise.
Alec Barniskis
Super Reviewer
Blindspotting is like a poem. It's often rhythmic. Working in both speech and song. In rhyme and verse. It skips the metaphor, but delivers its meaning through an eloquent, free-flowing structure akin to a stanza. Most importantly, it provokes strong emotions in its beauty, its torment, and its truth. It's like an effortless verse that has flown out of Hamilton breakout Daveed Diggs and his longtime creative partner Rafael Casal as they explore the lifelong friendship of Collin and Miles who each have their own shit to deal with, but face new challenges due to the present context they're living in and the changing world around them. Growing up in Oakland their city has become a state of mind, integral to the identity of both men. As the Oakland they were raised in becomes more gentrified though, the question becomes how they deal with such a large part of their identity disappearing before them. How do they justify who they are or become who they're supposed to be if they can't go back to where they're from? If home as they know it no longer exists? Layer in the rising tension dealing in race relations and not only is "Blindspotting" relevant, but it comes to utilize the art form in its most basic function: sending a message of empathy and hopefully opening a few minds in the process. We've seen films dig into the weird dynamics of male friendships before and how limited they seem to be in what emotions are allowed in, but with "Blindspotting" Diggs and Casal do a crazy good job of conveying both the tricky waters they encounter when it comes to the assumptions each are slapped with based on their appearance in contrast to who they are as human beings while filtering this conversation through the various tones the film utilizes. The film is framed by Collin trying to make it through his final three days of probation, but there is little more actual plot to the film outside of what you've seen in the trailers. Collin witnesses the killing of an unarmed black man by a white police officer, but this isn't the catalyst for a series of "wrong place, wrong time" circumstances that follow and serve more as plot devices than anything dealing with the ideas and themes of Diggs and Casal's script. Rather, this inciting incident is a starting point for the conversation the film wants to have. The movie doesn't rely on twists and turns or convoluted plotting to make its point, but rather it invests in its characters and allows each of their arcs to serve as the foundation for the story. Just like the characters themselves, it would be easy to make assumptions about "Blindspotting" based simply on the appearance of those involved and the position the marketing has taken. It would also be easy to dismiss the movie because it very clearly deals in hot button issues and if it, for one reason or another, seems to conflict with your point of view then it might be difficult for some to knowingly listen to what they believe is an opposing perspective for 90 minutes. That's the thing though, "Blindspotting" isn't trying to argue with you nor does it fall so far to one side that it feels irrational. "Bindspotting" just wants to remind people to be open and to ultimately, be kind. Not everyone is who they appear to be-for better or worse-but the simple truth we can't seem to fully comprehend is that you donï¿ 1/2(TM)t really know someone until you know someone. So, justï¿ 1/2take the time.
Philip Price
Super Reviewer
Blindspotting Quotes
There are no approved quotes yet for this movie.