Blood and Black Lace (Sei donne per l'assassino)
(1964)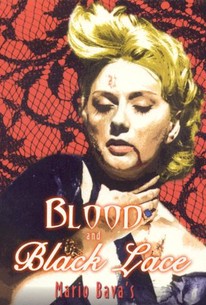 Movie Info
If a serial killer isn't stopped, there won't be any beautiful young models left in Rome. The killer always wears a stocking mask, making things extremely difficult for detective Thomas Reiner. The plot contains few surprises: what socks this one over is its gruesome stylishness, a trademark of director Mario Bava. As usual, however, Bava seems more comfortable with shock cuts and clever camera angles than he is with actors. Even such dependable performers as Cameron Mitchell and Eva Bartok come off like stick figures. All the same, Blood & Black Lace is a serviceable introduction to the blood-spattered ouevre of Mario Bava.
News & Interviews for Blood and Black Lace (Sei donne per l'assassino)
Critic Reviews for Blood and Black Lace (Sei donne per l'assassino)
Audience Reviews for Blood and Black Lace (Sei donne per l'assassino)
For its time this film was unmatched in its execution, though its conception was one in a long line of thematic whodunit films. Bava deviates from this classic structure by introducing a body count, and takes his time in showing the death scenes, in all their gory glory. While later slasher films were happy to leave the killer's motivations to mental disease, revenge fantasies, and a criminal disposition, this film shows that the killer is trying to keep a secret. Still, each of these model's killings is perpetrated in sick detail, each murder different from the next. They range from a fire poker torture session, to drowning, to eye gouging, which usually isn't conducive to murder mysteries. This may be the first instance where the promise of gruesome death overshadows catching the killer. There are some really great scenes, especially the first death scene in the warehouse, which borrows heavily from Welles' "Touch of Evil" in its choice of lighting. The ending was a little anti-climactic, but the rest of the film was as fresh and gritty as any slasher film, while still being stylish.
Spencer S.
Super Reviewer
Visually, this may be one of the most stunning films you will ever see. The photography, framing, lighting and use of colour is unequalled in this genre of film making from this era. The fluidity of the camera-work is remarkable and repays repeated viewings to appreciate it fully. The only thing that may make this difficult going for some is the English dubbing so see it with subtitles if you can. The acting is not great and in some places will bring about laughter where it was not intended ditto the actions of some of the victims. The murders are gruesome and graphic even in the cut version of this film and must have been truly shocking to audiences in 1964. The excellent music score fits perfectly with the fashion house setting of the story and the models are beautiful.
Cassandra Maples
Super Reviewer
Blood and Black Lace is a well-executed giallo, which literally translates to the word "yellow" in Italian. This color reference is a result of cheaply-made murder mysteries published in the 1920's that contained yellow covers. The common usage of the word giallo in terms of horror mostly involves a sadistic string of murders with an interesting final act that explains the motives behind them. In this particular film, Bava manages to deliver stylish camera work and a stunning layout. Imagine a cross between Roger Corman's set design during his Poe adaptation lineup, and pair it up with a composition that bares a striking resemblance to Dario Argento's artistry. Bava actually served as a huge inspiration for Argento which makes sense considering. Argento is responsible for 1982's Tenebre, another favorite giallo of mine. The plot of this film concerns a deranged madman who is killing off young fashion models. In typical giallo fashion, red herrings or false leads are thrown at you to build an exciting climax. I mentioned a likeness to Argento and that's precisely why Bava served as a point of influence - there are several scenes that act like mood triggers; exploring the palette in terms of lighting to generate a certain atmosphere. And while Bava wasn't partial to just one color, the selection he chose from coordinated seamlessly with the environment. I really appreciate this artistic approach and the cultural differences in film making. I enjoy a good art house flick from time to time but Bava manages the feature's run-time wisely by expressing himself and maintaining relevance simultaneously. Fans who are familiar with Italian giallos come to expect that many of them are dubbed in English...especially from this era. Luckily, I had the privilege of watching the uncut version of Blood and Black Lace in Italian with English subtitles on a old videotape years ago; upholding cinematic integrity flawlessly. If you love an entertaining giallo, or maybe you're curious about the sub-genre, Bava's classic is undoubtedly high on the list - just make sure you grab the version in Italian if you can find it.
David Ladd
Super Reviewer
Blood and Black Lace (Sei donne per l'assassino) Quotes
There are no approved quotes yet for this movie.