Blood and Wine
(1997)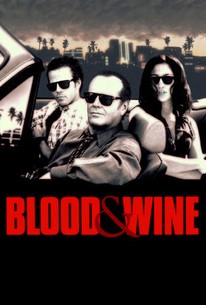 Movie Info
Wine merchant Alex Gates seems to have it all: a fancy shop, a beautiful wife, Suzanne, a sexy Latin mistress, Gabriella, and a hot car. He enjoys the best vintages of the goods he sells. In truth, Alex Gates' finances are stretched to the limit, his marriage is in a shambles and his relationship with his stepson Jason is toxic. Alex's business caters to a wealthy clientele, whose riches prove all too seductive: particularly a certain $1 million diamond necklace. Alex joins with Victor Spanksy, an emphysemic safe-cracker, in a conspiracy to steal the necklace. Rather than the key to their freedom, the hot necklace proves to be the beginning of the end. While Alex is seduced by the jewels, his stepson is both sucked into the crime and drawn to Gabriella, unaware of her liaisons with his stepfather. As their passion grows, she is increasingly torn by the two of them, and by the temptations of money and love.
Rating:
R
Genre:
,
Directed By:
Written By:
In Theaters:
On DVD:
Runtime:
Cast
News & Interviews for Blood and Wine
Critic Reviews for Blood and Wine
All Critics (31) | Top Critics (10) | Fresh (19) | Rotten (12) | DVD (2)
An amusingly caustic, straight-up serving of film noir staples spiced with star charisma.
An engrossing thriller - and one sparkling with intelligence, with the surprising twists grounded in credible human behaviour.
When Bob Rafelson decides to get nasty, he really means it.

New York Times
Top Critic
Globe and Mail
Top Critic
Rafelson is so true to his sour vision of crime, deception and a rottenness at the core of our natures -- he's as cheerful as a Jim Thompson potboiler -- that we never get a chance to like or care about his characters.
San Francisco Chronicle
Top Critic
The movie's own payoff is compelling enough, but the project has a weightless feel that limits involvement. Better you give it an hour-and-a-half on video someday, surrounded by wine and snacks.

Audience Reviews for Blood and Wine
Watching Nicholson and Caine compete in this thriller is entertaining to a certain point, and then you begin rooting for no one since it all comes down to greed.
Ryan Carson
½
Not even a reminder about how gorgeous J-Lo was in the nineties can save this film. Nicholson and Caine are wasting their time here collecting a paycheque for making nothing out of a B grade thriller.
John Ballantine
Super Reviewer
Honestly, Bob Rafelson should've just not made this third entry in his trilogy of Jack. While there's unsurprisingly great performances from Jack Nicolson and Michael Caine, the performances from Stephen Dorf and an incredibly ethnic Jennifer Lopez completely destroy the movie. The isn't all that unique, but given better talent it could have been a lot more entertaining and worthwhile. While you can certainly go worse, this just doesn't deliver the way that Five Easy Pieces and The King of Marvin Gardens do. It doesn't have anything particularly important to say about the American dream aside from the greed aspect. In the end it's just a poorly done heist movie.
Conner Rainwater
Super Reviewer
Discussion Forum
Discuss Blood and Wine on our Movie forum!
News & Features