Blood on Satan's Claw
(1970)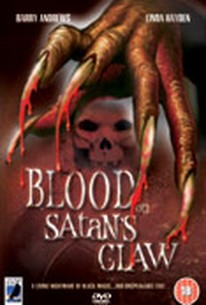 AUDIENCE SCORE
Critic Consensus: No consensus yet.
Movie Info
After a plowboy accidentally unearths the skeletal remains of a demonic creature, a cult of teenage devil-worshippers emerges in a 17th-century Cornwall farming community, led by the gorgeous temptress Angel (Linda Hayden, who positively smolders). Together, the children begin performing blood sacrifices in order to bring the skeletal demon back to life. The film eventually steers into witch-hunt territory -- in the vein of Michael Reeves' Witchfinder General -- as the superstitious locals use inquisition-style practices to put a stop to Hayden's cult. This lush, moody horror piece is superbly written, though the plot becomes a bit dense at times; the film was originally intended as a three-part series, but was eventually edited down to one feature. Still, Piers Haggard's assured direction keeps the threads together and provides just enough shock value to keep viewers on their toes. Watch for Peter Ustinov's daughter Tamara as one of the children. The Blood on Satan's Claw was also released as Satan's Claw and Satan's Skin. ~ Cavett Binion, Rovi
Critic Reviews for Blood on Satan's Claw
All Critics (4) | Fresh (2) | Rotten (2)
A little hard to find these days, but well worth searching for, 'Blood on Satan's Claw' is a classic.
If The Blood on Satan's Claw is a fundamentally conservative film, it's pretty vigorous in depicting Satan's foul mischief.
Audience Reviews for Blood on Satan's Claw
½
A wicked little film starring a largely unknown cast. Set in the 17th century, a farmer discovered a strange artifact in the filed and the teenagers in the town began to grow furs and become cultists. Bloodier than Witch Hunter General, Blood On Satan's Claw is a rare gem of British cinema.
Sylvester Kuo
Super Reviewer
Classic British horror. When a skull is discovered in the middle of a field, the man that finds it goes to get help but when they return the skull has vanished. Cue very strange behaviour from the teenagers in the local village, led by blonde beauty, Angel. It seems they have been possessed by the devil and start performing rituals and sacrifice's and only the bravest villagers can stop them. Quite controversial at the time due to a rape scene, a nude then 17 Linda Hayden and a gritty realistic feel similar of that of Witchfinder General, Blood on Satan's Claw is one of the cult British occult horrors and a must see for anyone who's enjoyed the likes of Witchfinder General, The Wicker Man and To The Devil a Daughter.
Blood on Satan's Claw is a film based in the 17th Century, following a group of Devil worshiping youths. It is low budget and has a few plot holes, but it still has a certain charm. I enjoyed watching this movie even though i really don't like watching pieces about this time period. The movie goes like this, Teenagers are invoking the dark lord and various people around the village are slowly turning into demons. Pretty basic i know, the movie was made in the seventies and the teenagers in the film tend to act more like kids from that year than the year that they are actually supposed to be playing. The antagonist is played by Linda Hayden, who does a pretty good job being the creepy, wild, and crazy satanist chick. The hero is very unlikely and, I like this, is actually the very conservative "Judge" played by veteran actor Patrick Wymark. If you want to see blood and guts this isnt the movie for that, and you only really get to see the monster in this movie for a total of about 5 seconds. Go see it for some chucks, I think the majority of you would really kinda like it. 6/10 For art Thou Sid
Brandon Siddall
Super Reviewer
Blood on Satan's Claw Quotes
There are no approved quotes yet for this movie.