Blow Out
(1981)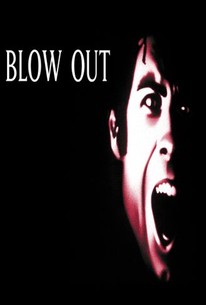 TOMATOMETER
AUDIENCE SCORE
Critic Consensus: With a story inspired by Antonioni's Blow Up and a style informed by the high-gloss suspense of Hitchcock, DePalma's Blow Out is raw, politically informed, and littered with film references.
Movie Info
Brian De Palma's homage to Michelangelo Antonioni's classic art movie Blow-Up (1966) blends suspense and political paranoia when a Philadelphia soundman inadvertently records a murder. Former police technician Jack Terri (John Travolta) makes his living doing sound for slasher flicks. While recording new outdoor effects one night, Jack witnesses a couple's car careen off a bridge into a river, but he can save only the female occupant, Sally (Nancy Allen). Jack begins to suspect something when he learns that her dead companion was a Presidential hopeful. Re-playing his tape over and over, Jack thinks that he hears a gun shot before the crash-causing tire blow-out. When sleazy photographer Manny Karp (Dennis Franz) comes forward with photos of the accident, Jack discovers the real reason that the naïve Sally was in the car -- and also a way to prove his auditory suspicions through motion pictures. Even with all his surveillance talent, however, Jack cannot see (or hear) how dangerous the big picture really is until it's too late. Taking a break from horror films, De Palma turned his interests in technology and voyeurism toward more politically loaded subject matter at the dawn of the Reagan era; the film's red, white and blue mise-en-scène, "Liberty Day" celebration climax, and conspiracy surrounding political "dirty tricks" suggest that American politics are still rotten, seven years after Watergate. Although Blow Out earned some favorable notice, particularly for Travolta's first "adult" performance, De Palma's downbeat film did not go over well with 1981 summer audiences. Rather than blockbuster escapism, Blow Out instead harks back to 1970s political thrillers like The Parallax View (1974), using cinematic fireworks to tell an unsettling story about one man's struggle against unstoppable corruption. ~ Lucia Bozzola, Rovi
People Who Like this movie also like
Critic Reviews for Blow Out
Audience Reviews for Blow Out
½
DePalma's most well executed tribute to the master of suspense (Alfred Hitchcock), this film features outstanding set pieces, standout performances from Lithgow, Travolta and Franz and maybe the best use of sound design to build tension.
Graham Jones
Super Reviewer
½
A potent thriller from DePalma that borrows from other aspects of cinema to create a visceral experience. Well shot, well acted, and original, 'Blow Out' can find comfort in many film buff's libraries.
Kase Vollebregt
Super Reviewer
½
Jack Terry: So you got your choice. You can be crazy or dead.  "Murder has a sound all of its own!" Classic Brian De Palma and classic John Travolta. Blow Out is up there with some of De Palma's best works, and is only held back by an annoying performance from Nancy Allen. The movie isn't quite as good as Dressed to Kill of Scarface, but just a notch below with movies like Carrie and Carlito's Way.  Jack Terry is out collecting sound for a new horror movie that he is working on. He's a sound man and the director isn't happy with the same old wind sound, so he's out to get a new wind sound. When he's out, he witnesses a car accident that ends up in a river. He jumps in and saves a girl, but another passenger dies. That passenger ends up being a governor and suspected running candidate for the presidency. Everyone is saying it's an accident, but Jack thinks it's more because he swears he heard a gunshot before the blow out. And he has it on tape. Blow Out is an extremely cool and entertaining piece of filmmaking from De Palma. It also feels like more restrained work from him. It isn't a movie that is obsessed with sex and violence(although there are elements of both). He lets the suspense and tension build to a windup. You still won't have trouble noticing all the elements that make De Palma so easy to spot. If only he didn't like Nancy Allen so much.  There's a lot to like about the movie, but I especially loved the usage of the scream scenes from the movie that is getting made within Blow Out. There's a lot of foreshadowing with the movie being made and works extremely well. Also, John Travolta is really, really good here. It's up there with his best stuff like Pulp Fiction. There's never a moment in his performance where he seemed fake or like all this wasn't really happening to him. He makes for an incredible hero and really keeps the tension building right along with De Palma's direction.  Blow Out is another must see film from De Palma. The guy made his share of bad movies for sure, but when he is on his game, he's fucking amazing. I know he is normally a director that you either love or hate, but with this one, I can see even his biggest haters enjoying it. It's just like Lynch's Blue Velvet with me. I despise Lynch, but I really like Blue Velvet. So even if you don't like De Palma, still give this one a look. It may surprise you.
Melvin White
Super Reviewer
Blow Out Quotes
There are no approved quotes yet for this movie.