Blue Jay
(2016)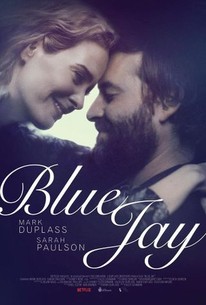 Movie Info
Former high school sweethearts Jim (Mark Duplass) and Amanda (Sarah Paulson) have been out of touch for more than 20 years - but by sheer coincidence, they run into each other at a grocery store back in their alpine hometown of Crestline, California. Jim's mother has died and he's here to put her house on the market. Amanda is visiting her pregnant sister. They get to talking, first over coffee, then over beer and jellybeans. Before they know it they're at Jim's mother's house, where everything sends them spiraling back into the past. Jim and Amanda's lives have taken different directions, yet here they are, reconnecting like nothing has changed. Alex Lehmann's feature debut is a tender, wise chamber drama about finding yourself adrift in mid-life, longing for something essential that you fear has been lost.
News & Interviews for Blue Jay
Critic Reviews for Blue Jay
Audience Reviews for Blue Jay
Bored the living crap out of me. I normally like b&w and indie films but this... who the hell meets up with an ex, spends all day with them while they?ve got groceries going bad in the car and indulges in fantasy sequences and bad rapping. And don't even get me started on the dramatic reveal. Oh please. How many times do we have to watch that storyline.
Nicki Marie
Super Reviewer
What is most incredible in this profoundly sensitive, mature drama is that there is no script and the wonderful dialogue is entirely improvised, while Duplass and Paulson have such an amazing chemistry together that everything their characters tell each other sounds so real and painful.
Carlos Magalhães
Super Reviewer
A precious jewel box of a movie. Duplass is very good but Paulson really shines in this improvised two-hander of lost love briefly found and then lost forever,. Very moving and very funny. One of the best movie of 2016 and hardly anyone has seen it. (NF 12-7-16)
Blue Jay Quotes
There are no approved quotes yet for this movie.