Bluebeard
(2010)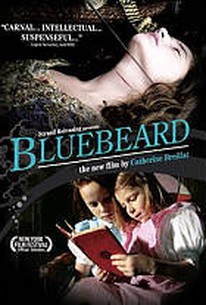 Movie Info
Controversial filmmaker Catherine Breillat puts a new spin on an ancient story in this multileveled drama. In France in the mid-'50s, Catherine (Marilou Lopes-Benites) enjoys toying with her older sister, Marie-Anne (Lola Giovannetti), by reading her the story of the murderous and oft-married Bluebeard, embellishing the story with plenty of gore and scaring the girl out of her wits. As Catherine rereads the story, we're taken back to the year 1697, as Lord Bluebeard (Dominique Thomas) prepares to make Marie-Catherine (Lola Créton) his seventh wife. Marie-Catherine's youth and innocence make her an especially attractive quarry to Bluebeard, and rather than murder her right away, he decides to wait a while in order to savor the terrible joy of claiming her life. However, as Bluebeard becomes caught in a cycle of events that keep him from following through on his wife's murder, the two slowly become something like a normal couple and Marie-Catherine begins to turn the tables on her spouse. Barbe Bleue (aka Bluebeard) received its world premiere at the 2009 Berlin International Film Festival. ~ Mark Deming, Rovi
News & Interviews for Bluebeard
Critic Reviews for Bluebeard
Audience Reviews for Bluebeard
½
In "Bluebeard," two young girls, Catherine(Marilou Lopes-Benites) and Marie-Anne(Lola Giovannetti), wander into an attic that they have not been strictly forbidden from entering but not exactly given permission to enter, either. There, they play games and read the story of Bluebeard again. Marie-Catherine(Lola Creton) and Anne(Daphne Baiwir) are sent home from a private school when their father is killed by a carriage while saving a child. Things are no better at home when all of their belongings are taken away and their mother(Isabelle Lapouge) is left with two daughters she cannot a provide a dowry for. However, Bluebeard(Dominique Thomas), the enormously wealthy lord of a nearby castle, is looking for a new wife since all of his old ones have gone missing. I don't recall specifically how much Catherine Breillat might have changed in adapting the classic fairytale for the screen but regardless she makes it her own. While much more sedate than most of her other movies, it has more than its share of transgressions and forbidden knowledge with her contributing much intelligent thought on the subject of female sexuality.(For this reason and I may be alone on this, I think Catherine Breillat would make a fine director for the next "Twilight" movie.) The girls in the present have their own weird ideas on what marriage is supposed to be and no idea what to expect in the future. On the other hand, Marie-Catherine has no illusions when it comes to marriage and Bluebeard and prepares herself accordingly.
A strangely disjointed tale, based on the Bluebeard fairy tale, told as a cautionary tale that leaves the viewer feeling somehow short-changed. One questions the artistic decision to tell the tale as a young girl reading it to her older sister, and then dissolving to the action of the story. The scenery is sumptuous, the costumes are gorgeous, the actors well chosen, but at a mere hour and twenty minutes, the ending seems forced, terribly rushed, and serves no other purpose than to allow the director to say she filmed an ending. The context is somehow missing, at least for this viewer. My favorite Muse calls this Breillat's most accessible film to date, and with that one must concur, but that still isn't saying much. One always comes away with the feeling that one missed something, some cultural reference or some mistranslated line of dialog, that would make the screenplay make more sense. This viewer has been left wanting a clearer message far too many times.
Mark Abell
Super Reviewer
½
An aristocrat with a blue beard marries young girls, who always wind up dead. There are a few startling images near the end that pop out because the rest of the story so flat, but the for the most part the matter-of-fact minimalist style fades the magic and mystery of the fairy tale.
Bluebeard Quotes
There are no approved quotes yet for this movie.