Bookies
(2004)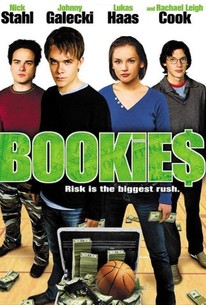 Movie Info
The sophomore outing for Mark Illsley, the writer and director of 1999's Happy Texas, Bookies is a return to the crime comedy genre of the filmmaker's first project. Starring Nick Stahl, Lukas Haas, and Johnny Galecki as college buddies Toby, Casey, and Jude, the film begins with the trio upset over a substantial gambling loss. After paying up, they decide that they are on the wrong side of the transaction and concoct a plan to become bookies themselves. Working in the shadows so as not to let on that they are anything but professionals, the young entrepreneurs devise a system that involves leaving money in unpopular books at the library where Jude works. Before they know it, the guys are rolling in the dough. Casey buys a bunch of computer equipment, Jude gets himself a drug habit, and Toby uses his newfound wealth to impress Hunter, a fellow student played by Rachael Leigh Cook. But just as fast as things started to go well, they take an unexpected turn. The boys are making so much money that they're cutting into the business of the local mafia. As one might expect, the thugs don't take too kindly to competition. Also starring John Diehl and David Proval, Bookies premiered at the 2003 Sundance Film Festival.
Critic Reviews for Bookies
All Critics (6) | Top Critics (2) | Fresh (4) | Rotten (2) | DVD (1)
Both a satiric and level-headed slant on collegiate life and big-time sports, Bookies is an eye-opening amusement.
February 25, 2003
Noisy, grating and morally dubious.
February 25, 2003
One of those undemanding pieces of entertainment that somehow creep up on you and force you to like them. This one's doubly recommended to those familiar with the joys and sorrows affiliated with sports betting.
Audience Reviews for Bookies
I enjoyed the movie and I got really into it...however there were some things I really didn't like. Most of the characters were really unlikable. The only character I actually cared about was Stahl's. Rachael Leigh Cook's character was really stuck up and self absorbed. Then there was Stahl's friend who was so obnoxious and did the stupidest things. I was kind of hoping he had gotten shot by the other gamblers. I also didn't really love the character Stahl played, he was too serious and didn't have much of a personality at all. I really like Nick Stahl as an actor, but I don't think this was his best performance. The other thing I did not like about this movie was the narrator aspect of it. I guess it's just me, but I don't like a narrator telling me what is going on and giving me worthless background information that I really don't need to know in order to understand the movie. I'm not stupid, I get what's happening. Then there was the ending. There was a little twist that was fun, but at the very end *SPOILER*, they aren't friends anymore and his "girlfriend" (I don't know if you even consider Cook's character a girlfriend to Stahl seeing as how they never showed any chemistry whatsoever) might not be his "girlfriend" anymore? The girlfriend bit was my last concern. If Cook and Stahl were supposed to be girlfriend/boyfriend they could've kissed or hugged at least once throughout the movie. I mean seriously. They didn't even look like good friends in the movie...what was the director trying to do there? They could've taken Cook's character out completely and it wouldn't have made the slightest difference in the movie. It just confused me. If they just added Cook's character in there just to add a bit of romance to the story........it didn't work. I probably would not watch this movie again, but I really did enjoy it. The ending just disappointed me, I was hoping for something bigger and spectacular to happen.
Bookies Quotes
There are no approved quotes yet for this movie.